Richard H. Harmon Family & Homestead - 1914
From Left to Right: Montra, Malba, Leonard, Richard, Mollie w/Lindsey, Maude w/Nola, Mattie, Lilburn & Lestol Harmon. This picture was taken in 1914 at the family home in the Sano community of Adair Co. The two oldest sons, Lilburn & Lestol died within three days of each other 4 years later during the flu epidemic of 1918.
Contributed By: Morris Shepherd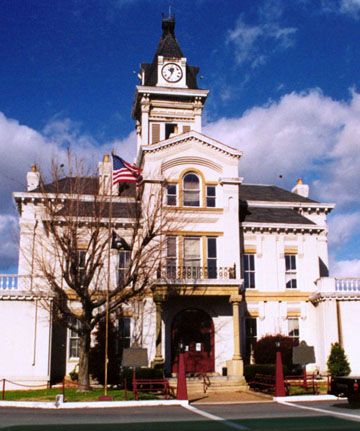 The Adair County courthouse was built in 1884 and is the second courthouse to stand on this site. The McDonald Brothers of Louisville designed this structure; the contractor for this project was Hudson and Stone Company of Columbia.
The stone used for the building was quarried at Sparksville in Adair County.
In the columns that support the portico was carved the faces of Major Conover and his sister to commemorate the dedication service.
Photo By: Art and Reba Stead; Information By: Courthouses Across Kentucky

The old Grade and High school in Columbia, KY. It has now been replaced by the consolidated Adair County Schools.
Contributed By: Morris Shepherd