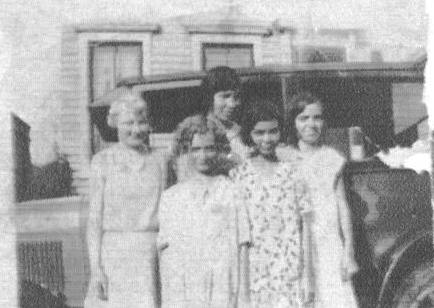 Unknown Couple
We need your help identifying this couple! The photo came from a family collection, belonging to Shirley Willis Noel so we are pretty sure it is probably a Grant or a Willis! Some speculation indicates that it may be Sophrona Grant and husband. We have a picture of her as a child on page 18 of this album. Please, everyone take a close look at this photo, and if you recognize either of these people, let Shirley know.
Thanks!

(to see a larger photo with names, please click on the thumbnail above)
The Walnut Grove School
circa 1900
Fairplay, Kentucky
Submitted By: Ron & Doris Curry

BACK: Sarah Light Bottom, Addie, Ken, Oze Bottom FRONT: Bob, Jean, Reba, Maud
Bottom/Street Family
Sarah Light Bottom was born in Adair County. Her son, Oze, (back row, partially hidden) was born in Adair County to Thomas A. Bottom and Sarah E. Light. The three children are his.
The picture was taken in Bogard, Carroll County, Missouri. Addie Street, (her face is partially hidden and she is standing next to Sarah).
Submitted By: Ron & Doris Curry