Adair County Obituaries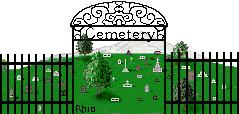 Obituary (complete) of Timoleon Bradshaw

Transcribed from a photocopy of an undated clipping from an unknown newspaper. Timoleon's grave marker (City Cemetery, Columbia KY) gives his birth & death years as 1833-1906. TheKYGENWEB 'Compute a date', confirms that December 2nd, 1906, was indeed a Sunday.

MR. TIMOLEON BRADSHAW
----
Passed to His Reward Last Sunday Morning at 6:30 O'clock

Mr. Timoleon Bradshaw was born seventy-two years ago near the
headwaters of Sulphur Creek, in this county, and died Sunday morning,
December 2nd, at his late residence on Burkesville street, a victim of a
complication of diseases.
Early in life the subject of this notice removed to Columbia and
entered the mercantile business and was on_ of the most popular
merchants of his day. He served as Sheriff of Adair and probably no man in this country was better known, to young and old, than Mr. Bradshaw. For several years he was unable to actively engage in business, but whenever health would permit he was always to be found pursuing clerical work.
The deceased had been a member of the Christina church for a number of years and when able was in attendance at the services. He was a man of strong convictions, always to be found on the side of right and justice, and ever ready to give advice to the young and inexperienced, which if heeded was of incalcuble [sic] benefit to them.
About forty years ago [in 1862] he was united in marriage to Miss
Sallie Wilson, daughter of Mr. and Mrs. Henderson Wilson, of Columbia, and to this union four children were born, three of whom survive him, Mr. W.E. Bradshaw, Mrs. M. Cravens and Mrs. W.F. Hancock.
The funeral services were held at the Christian church conducted by
the pastor, Eld. Z.T. Williams, followed by Eld. W.K. Azbill and Judge
H.C. Baker. The latter being a life-long friend and neighbor of the
deceased was prepared to speak as one who knew him. Judge baker
eulogized the life of the deceased, and spoke of him as a whole souled,
generous hearted neighbor, always ready and willing to help a weaker
brother, and a man who could always be found doing good to the best of his ability.
Besides the widow and three children, the deceased is survived by two sisters, Miss Lottie Bradshaw and Mrs. Ann White, all of whom have the sympathy of this entire section.

* Transcriber's note: Mr. Bradshaw's grave marker indicates he was a Mason.

******************************************************


Obituary (abstract) of Joseph Z. Wheat

* Transcribed from a photocopy of an undated clipping from an unknown newspaper.

FUNERAL SERVICES OF JO Z. WHEAT

A Former Columbian Who Recently Died at San Antonio, Texas

This following article on the death of Mr. Jo Z. Wheat is taken from the Ft. Worth Record:

The Funeral of the late Jo Z. Wheat took place yesterday afternoon at
3 o'clock from the residence of Robert B. Smith, 1428 Pruit Street
[?Fort Worth], and was attended by a large number of friends. ... The
burial took place in the new cemetery. Many were the floral offerings by
friends, among which was a magnificent one by the occupants of the Wheat office building.
Mr. Wheat's death came as a shock to his many friends here [?Fort
Worth]. ... He was attacked last Friday night with acute throat trouble,
and was operated on Saturday morning with but temporary relief. Sunday morning it was found necessary to perform the operation of
tracheotomy... Monday evening it was evident that the edema was
extending to the lungs and Tuesday at 10:30 a.m., death followed as a
result. He was attended at the time of his death by his wife, two
daughters, Misses Rosa Nell and Virginia, and his aunt, Mrs. Annie M.
Smith.
...
Mr. Wheat was a native of Kentucky, having been born in Columbia,
December 25th, 1855. He had been a resident of Fort Worth more than twenty years, and in that time had made many friends. He was a man who always proved loyal to his friends. His family is well known here and has the sympathy of a large circle of friends.

* Transcriber's note: Joseph Z. Wheat was the son Joseph Z. Wheat & Myra Smith Wheat and the grand son of Milton P. Wheat & Rebecca Miller Smith.
My guess is that he died ca. 1905, certainly after mid-1899. The
obituary of his mother (30 August 1899 'Adair County News') states she died on 29 July 1899 in Ft. Worth Texas at the home of her only son, Joseph Z. Wheat.
---
MEMORIAM

Miss Flora Pearl Grider, daughter of Mr. and Mrs. W.C. Grider, of
Montpelier, Ky., died August the 5th, 1912, at the age of 19 years next
birthday -- October the 2nd.
She remembered her Creator in days of her youth, having surrendered
her young heart and life to Jesus at the age of nine years, uniting with
the Methodist church at Mt. Pleasant, and has lived a devoted,
consecrated Christian life to the end. She loved her Bible, her church
and her home, and bowed in humble prayer at her bedside each evening
before retiring. She lost no opportunity in helping her associates to a
better life.
She was the youngest of four children, one sister and two brothers.
Her sister, Mrs. Ella Hays, of New Mexico, was at her bedside during her
last illness. Rev. Bascom Grider, who at present has charge of the
Methodist church at Elkton, Ky., is an excellent preacher and a specimen
of noble, young manhood. He could not attend the last days of his
sister's illness on account of his wife being sick. The other brother,
Bayard, who resides in Carlsbad, New Mexico, visited his sister a few
months before her death.
She was the joy and light of the home -- was always cheerful and met
her friends with a smile. She loved to sing and play the organ, and one
of her favorite songs was "We'll never say good-bye in Heaven." She
often spoke of her readiness to go when it was the Lord's will. She was
a model Christian girl. She loved her parents, and it was her delight to
make them happy.
May the Lord bless the lonely home and the broken hearted parents in
this deep sorrow that has come to them, is the prayer of a friend.
[written by Rev.] Z.T. Williams