Adair County News from Yesteryear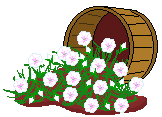 This page is especially for News Articles and Clippings that reflect the more gracious time of our ancestors. When a visit from family or friends was noteworthy news!
From a 'Reduction Sale' ad in Dec. 1946 (The 'Russell County News')

Matches, 6 boxes, 23c
Maxwell House Coffee, one lb., 41c
Great Northern beans, 5 lb., 80c
Men's suspenders, Reg. $1.00, 50c
Ladies panties, reg. $1.00, 65c
Wine of Cardui, 68c
Bobby pins, 18/card, 6c
Soda, three boxes, 10c
10c box of C.G. baking powder, 7c
25c furniture polish, 2 qts., 35c [reg. price 25c/qt]
Ladies garters, 2 pair, 15c
razor blades, 6 pkgs, 25c

---
The 'Russell County News', June 6, 1946

Secret Marriage Revealed

Surprising his family and friends, William Shelby Winfrey brought home
his bride this past weekend. She is the former Miss Lois Antle, daughter
of Mr. and Mrs. Bert Antle of Columbia.
The wedding took place Sunday afternoon, April 28, they announced, at
the Parkland Baptist church in Louisville, and was conducted by Rev. H.
Leo Eddleman. The only attendants were Mr. and Mrs. Cliff Kennedy.
The charming bride is a graduate of Columbia high school and Lindsey
Wilson college, and at present is employed at the du Pont plant in
Louisville. The groom is a graduate of Jamestown high school and of
Lindsey Wilson college, and has had one semester of work at Western
State Teachers college, Bowling Green. He is a veteran of World War II,
having many months of service in the naval air corps. Shortly after his
discharge he was employed at the local high school here as teacher and
coach, and had a very successful season.
The young couple plan to leave next week for a short honeymoon in the
south. Following their trip, Mr. Winfrey will enter the University of
Kentucky for the two summer terms.
---
The Russell County News
Thursday, August 14, 1941, page three and page 7
Here from South Texas
Uriah Collins of the Rio Grande Valley, Texas, who is spending a few days with relatives in this country, was visiting Mr. W. S. Knight in [Jamestown] Monday. Mr. Collins left this county 60 years ago but has returned a few times for short visits.
Texan is Guest at Luncheon
Mrs. W. S. Antle jointly, with her two sisters, Mrs. J. B. Wheat and Mrs. G. M. Stevenson were hostesses at a luncheon Sunday given in honor of their brother, Uriah Collins of Alamo, Texas, at the lovely country home of Mrs. Antle at Montpelier.
Other guests present were Mrs. Baird Grider of Los Angeles, Calif., Dr. and Mrs. Guy Stevenson, Louisville, Dr. and Mrs. Ralph Antle, Covington, Ky., Mr. and Mrs. James Cox, Gravel Switch, Ky., Mrs. Sam Stevenson, Columbia, Ky., Mr. and Mrs. Harold Wheat and Orvis Ray, Mr. and Mrs. Vernon Selby, Jo Ann and Adrian, Mr. and Mrs. Reid Antle, Mrs. Sam Browning, Rosemary and Billie Browning, Ray and Rob Antle.
The afternoon, until the guests departed, was spent in friendly chats ad Dr. Antle got material for his movie camera. Many remarks were heard when the day was over, similar to the words of mark Twain when asked the first time he saw the ocean what he thought of it. He replied, 'I think it was a great success.' -- [submitted by] A Guest.
---
Advertisement in the September 10, 1942 Russell County News
*****
Goff's Hotel
Merchant Street, rear of
Grissom Funeral Home,
two blocks from square
COLUMBIA, KENTUCKY
Rooms 50c, 75c, $1.00
Hot and Cold Water Baths
A convenient place, close to
business, but not in noisy section
For information call at HOTEL
or see J.H. GOFF
at Goff's Furniture Store
*****
---
The 'Russell County News', Thursday, November 12, 1942, page 5

V.P. Henry Heads Lindsey Wilson

The Rev. V.P. [Victor P.] Henry, presiding elder of the Columbia
district of the Methodist church, has been named president of Lindsey
Wilson junior college, located at Columbia, Kentucky.
Rev. Henry succeeds the late Dr. A.P. White, who was president of
Lindsey Wilson for 12 years prior to his death several months ago.
Rev. Henry was a former foreign missionary and a veteran of the first
World War.
Many Russell county students have attended Lindsey Wilson since it
became a junior college 23 years ago.

[Dr. Henry served as President of Lindsey Wilson Junior College until
1954.]

---
The 'Russell County [KY] News' Thursday, December 3, 1942, page 2

'Money Talks'

by Frederick Stamm, Economist & Director of Adult Education, University
of Louisville

The U.S. Bureau of labor statistics releases regularly figures on the
cost of living which should be of interest to everyone. One of the
yardsticks which it uses to measure living costs is called the "market
basket" contains food items which are purchased weekly by the American
housewife, and is made up of: 3 pounds of round steak; 2 pounds of
bacon; 1 quart of milk; 1 pound of butter; 1 pound of lard; 1 dozen
eggs; 1 loaf of bread; 1 peck of potatoes; 3 pounds of cabbage; 1 dozen
oranges; 1 can corn; 1 can tomatoes; 5 pounds sugar; and 1 pound of
coffee.
The last time I referred to this on September 19, 1941, the cost of
this "market basket" was $4.90. By December 1941 it had risen to around
$5.05, but by October 13, 1942, the cost of these articles had increased
to $5.79. So you see the purchasing power of your dollar is shrinking
month by month. In 1933, when prices were at their lowest level, you
could have purchased these commodities for only $3.26.
You must remember these prices are figured on a national average but
it should be very interesting to see what this "market basket" would
cost at YOUR GROCER AND BUTCHER, and check it with the national average.
---
The 'Russell County News', Thursday, September 24, 1942, page 6.

(Reprinted from the 'Adair County News')


Harmony School Gives $70 to USO


A pie supper was given last week at the Harmony school taught by Mr.
and Mrs. Stanley Rosenbaum, the proceeds being donated to the U.S.O.
drive in Adair county. A sum of $51.13 was realized from the event and
in addition the teachers and children donated $12.35.
The Harmony pupils have also collected 4,000 pounds of scrap metal
which will be sold and the money given to the U.S.O. All together
approximately $70 has been raised in the Harmony community as the result
of the children and teachers of the school there. This is indeed a
splendid record. H.T. Bell was auctioneer at the pie supper and deserves
much credit for a successful job.
If one school, assisted by the citizens of that community, can raise
$70, others can do likewise. Who will follow suit? The News wants
reports of other such successful and patriotic events.
Adair's quota in the U.S.O. drive is $800 and money could not be
contributed to a more worthy cause. A gift to the U.S.O. is a present to
the boys in service throughout the world.
---
The Russell County News, Thursday, January 29, 1942
(Reprinted from the Adair County News)
Mrs. Azro Hadley received a message on Sunday from her brother, Robert Patterson, who sailed November 20 on an U.S. Army transport for the Philippine Islands. The message, which was dated December 14, bore no postmark other than U.S. Navy and briefly stated that he was "well and doing well." This was the second message which his family had received, the first being sent from Hawaii on November 20, before hostilities began in the Pacific. Mr. Patterson was en route to the Philippines to serve as an air corps electrician.
---
The Russell County News, Thursday, May 21, 1942
(reprinted from the Adair County News)
Miss Curry Accepts Position in Virginia
Miss Clarice Curry has accepted a position as forelady in a DuPont plant, at Martinsville, Va. At present she is taking a month's training preparatory to assuming duties of the new job.
Miss Curry until recently was W.P.A. referral agent for Adair county.
---
The Russell County News, Thursday, May 21, 1942
(reprinted from the Columbia Times)
Sergeant Rogers Loses Left Hand in Accident
Sergeant Chesley G. Rogers, 23, of Fort Knox, had the misfortune to lose his left hand by a gunshot wound one day last week. He was at home in the Keltner section visiting his wife, Mrs. Mayrine Rogers, and his parents, Mr. and Mrs. Edd Rogers, and was starting back to Fort Knox
when he moved a gun from the front seat of his car to the rear, the gun discharged and inflicted the wound which necessitated the amputation.
---
The Russell County News, Thursday, May 28, 1942
(one-sixth page ad)
Go TO GOFF'S For Bargins
============================
SPECIALS ON ARMSTRONG RUGS
9x12 regular value $6.50............. at $4.95
Other Good Rugs, $3.95 values... at $3.49
============================
GOOD SUPPLY OF USED FURNITURE
============================
New New
BED ROOM COOKING
SUITES RANGES
$47.50 to $57.50 $29.50 to $39.50
============================
NEW BEDS, MATTRESSES, & SPRINGS
AT MARCH PRICES
============================
SALE ON INNERSPRING MATTRESSES
$16.95 value $12.49 $27.50 value $19.75
$24.50 value $18.49 $37.50 value $26.75
============================
Big Supply of
PAINTS, VARNISHES and
ENAMELS
All sizes from 10c to 5 gallon cans
HOUSE PAINT, gal. ..........$1.50 to $2.49
Guarnateed HOUSE PAINT, gal. .....$2.49
Light Oak, Golden Oak Varnish, gal. $1.95
BLACK ROOF PAINT, gal. ...............55c
RED ROOF PAINT, gal. ..................$1.49
Green Roof Paint, Extra Quality, gal. $1.65
Aluminum Paint in Pints, Quarts, Halves
MEN'S FELT HATS............50c and $1.25
============================
MEN'S ODD COATS.......$1.00 and $2.00
============================
Ice Boxes and Electric Refrigerators Cheap
============================
Goff's Furniture Store
Columbia, Kentucky
---
The Russell County News, Thursday, June 11, 1942
(from the 'Hits and Bits' column by 'E.Z. Going')
... S.F. White, for a year editor of The [Russell County] News but for the past three or four years publisher of The Columbia Times, made formal announcement [last week] that his paper was discontinuing publication with that issue. Mr. White is well-known in Jamestown and Russell County and is generally acknowledged to be a first-class newspaperman. He says "suspension of publication is due mainly to conditions brought about by the war -- curtailment of advertising, the ever-mounting costs of doing business, and the difficulties in securing any supplies made of metal, etc." The Times, in its fourth year of publication, was considered a very newsy little paper...
---
The Russell County News, Thursday, June 18, 1942
Rural Schools to Start June 29 in Adair
C.W. Marshall, superintendent of Adair county schools, has announced that the rural schools of that county will start on Monday, June 29. If no time is lost by the teachers, the schools will close on Friday, Janaury 1, 1943.
---
The Russell County News, Thursday, June 25, 1942
(reprinted from the Adair County News)
Mrs. G.R. Reed Elected to Georgetown Board
Mrs. G.R. Reed of this city was elected a member of the board of trustees at Georgetown College, Georgetown, Ky., at a meeting of that body held on Monday, May 25, following the annual commencement exercises.
It is only in recent years that women have served in this capacity and until Mrs. Reed's election there had been only one woman board member. Mrs. Reed graduated from Georgetown in 1907 and has always been actively interested the affairs of the institution.
Dr. R.T. Hinton was named chairman of the board to serve until a new president was elected to succeed Dr. Henry Noble Sherwood.
---
The Russell County News, Thursday, January 12, 1939
LINDSEY WILSON JUNIOR COLLEGE
Columbia, Ky.
Second semester opens January 23, 1939. Beginning classes
for Freshmen and Sophomores. Two years' work offered in
six departments. Total cost of the average student $125.00
for the semester. This includes board and books. Make room
reservations now.
A.P. WHITE, Pres.
---
The Russell County News, Thursday, March 16, 1939
(In the Dent community newsletter. Dent was a post office near the Blair Schoolhouse community.)
Mr. Charlie Tupman, Mrs. Henry Garnett and Miss Rena Garnett all of Columbia, were visiting Mr. and Mrs. Rollin Powell recently.
---
The Russell County News, Thursday, April 13, 1939
Don't let NERVES RUIN YOUR HEALTH AND DISPOSITION
Are there days when it seems that the radio, the ringing of the door or
telephone bell, the clatter of dishes, or even the laughter and voices of
children nearly drive you frantic--days when you are restless and cranky?
Do you lie awake nights?
When these hectic days and wakeful nights interfere with your work and
take the pleasure out of life for you, try DR. MILES NERVINE.
Dr. Miles is a combination of effective nerve sedatives, originated by a
famous nerve specialist.
Dr. Miles Nervine has brought relief to millions of sufferers. You may
it exactly what you need.
Will you try Dr. Miles Nervine?
Your druggist has it.
Large bottle $1.00.
Small bottle 25c.
DR. MILES LIQUID NERVINE