" Merky " Johnson Blanton and her brother,
Matt Johnson taken on Frozen Creek
---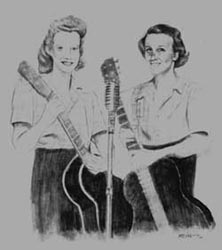 Roselee Yeary and sister, Velma Yeary,
the " Yeary Sisters" .. singing stars of
Renfro Valley Barn show. Velma was the
mother of Betty Johnson, my wife.
---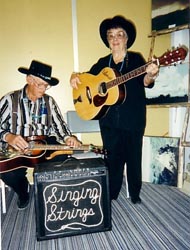 Jim Sagar & Velma Yeary ..
the " Singing Strings " Velma was
still singing at the age of 78; until
her death on March 10, 2005
Anderson D Johnson,
b 06 April, 1865
Turkey Creek,
Breathitt Co, KY
d 17 June, 1954
Hell Creek, Lee Co, KY
Known as the
'Kaiser of Hell Creek',
he ruled with an iron fist.
Daughter (middle)
America 'Merky' Johnson Blanton
b 1889
Millbranch, Lee Co, KY
Delora Bell Gabbard Johnson
w/o Anderson D. Johnson,
b. 19 June, 1865
Athol, Breathitt Co, KY,
d/o Claibourn Gabbard
and Mary Chambers
---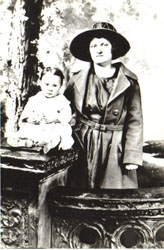 Tues, Apr 12, 2005 ...
Here is a photo of my aunt,
Josie Johnson Jones.
Her granddaughter, Kay is the principal of Beattyville
Elementary. The little boy
is her nephew; my first cousin
Bradley Isaacs from Beattyville.
He was a Lt Col
in the Air Force during WWII.
William Harrison Blanton Jr, son of William H Blanton Sr. ..
was the first millionaire of Jackson; also was a Judge.,......
boy in photo unknown; William Jr's wife, America Johnson
---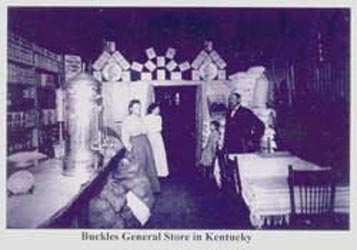 Buckles General Store at Burning Springs, Manchester,
Clay Co, KY .. owned by Sarah Johnson Buckles, sister of
Anderson D. Johnson. Sarah, b 1859 Turkey Creek,
Breathitt Co,KY md the Rev. William Buckles

----- Original Message -----
From: <kayepperson@bellsouth.net>
To: <durj@bellsouth.net>
Sent: Monday, April 11, 2005 7:06 PM
Subject: Grandma Josie Johnson Jones
Dennis,
I scanned this picture of my grandmother today. We had had
this picture for a long time, and I always assumed the child
was my dad's brother that died at about that age; but just
recently found out that the little boy was her nephew; the
last name was Isaacs. Thanks for telling me that your dad
named his first daughter Josie. My dad (Harrison Jones)
was only 8 when she died but he always talked about what
a kind and resourceful person she was. Is your sister, Josie,
still around?
Kay Jones Epperson