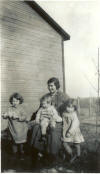 DeVore Family
from left to right: Lucille DeVore, Virginia "Ginnie" Griffith ( Joe DeVore's mother) holding
Lena DeVore, Willie Mae DeVore

Photo taken at the old house at Cove Hill, Kentucky
Contributed By: Megan Brown
Submitted By: Geneva Pettit

Jesse Smith Homeplace. Home was built about 1896-97 and is located on what once was the land of Stephen Coleman on Gilgal Road. Photo taken about 1979.
Contributed By: Megan Brown
Submitted By: Geneva Pettit

Smith - DeVore Family
from left to right: back row: Joe DeVore, Otis Smith, Lizzie Murphy, Azora Bell Jackson Smith , Jesse Smith.
(Children may still be living and so names are not listed).
In 1936, they were in attendance for the funeral of King Solomon Smith.
Contributed By: Megan Brown
Submitted By: Geneva Pettit