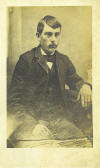 Alonzo Lawson Williams
Born 1860 in Trimble Co. Son of James B. Williams & Sarah Miles Williams. Died Carroll Co. 1914. Husband of Susannah Coleman.

Humphery Abraham/Abrams and wife, Rebecca George
Humphrey and his wife are buried in Worthville Cemetery, Carroll County, Kentucky Even though surname was Abrams, the name Abraham appears on early tax records in Madison County, Ky.
Gabriel insisted his name be spelled as Abraham.
Contributed By: Geneva Pettit

Gabriel Abraham/Abrams and wife, Susan Rose
Parents of Humphrey Abraham/Abrams. Susan Rose Abrams is buried near her daughter, Margaret Abraham/Abrams in the old Allen Wilson Cemetery near the old Section houses on Mill Creek,
Carroll County, Kentucky. Gabriel is believed to have been buried on the land of his son Solomon who
died near Ewing's Ford in Trimble County. Gabe died after 1900 and Solomon on about 11 March, 1924. Believe this cemetery is the old John and Margaret Wilson Cemetery.
Contributed By: Geneva Pettit