William Marion Bowling
A soldier in the Union Army, Company K, 13 Kentucky Volunteer Infantry. He was wounded at Huff's Ferry.
He was the son of George W. and Catherine Wilkins Minish. William was born April 17, 1840, and died April 12, 1904. He is buried in Carrollton I.O.O.F. cemetery.
Contributed By: Susan Michelle Meadows, G-G Granddaughter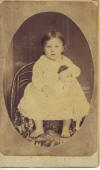 Little Girl with a Doll
I would like to see if perhaps someone can identify the child. picture probably dates from late 1890's to early 1900's. It is a CDV and on the rear it reads: L. R. Williams, Photographer. Sanders, KY. It has no information other than the name of the studio where it was taken. If anyone can identify the little girl, please contact Letha Berry.
Contributed By: Letha Berry



Carroll County Phone Operators
Photo taken early 1920's
Contributed By: Suzanne Shephard