Boring Cemetery
Contributed by J. D. Means



Boring Cemetery is on the south side of Hwy 738, just past Lee's Chapel.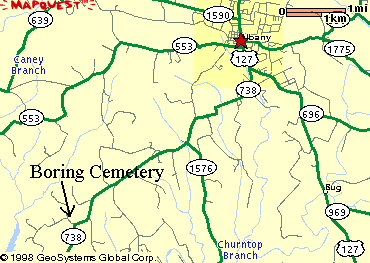 It might interest you to know that I am placing during the first week in October 1998 a Historical Marker on the Boring Cemetery in Clinton County. It only has a bunch of fieldstones, but in 1961 my grand-uncle James Edgar Amonette took me there and told me who was buried there. There are about 13 graves there, including Isaac and Catherine Conner Boring and probably Charles and Elizabeth Tipton Reneau.

Problems or bad links should be reported to the webmaster.
©Copyright 2001-2015 by Sherri Bradley All files on this website are copyrighted by their submitter and creator. They may be linked to, but may not be reproduced on another website or in any other form, without specific permission of the submitter, owner, publisher and this site moderator. Although public records are as such not copyrightable, the manner in which they are presented, including the notes, comments, etc. are. The information on this site is provided free of charge, by volunteers, for your personal use only.