Graves County
is a county located in the U.S. state of Kentucky. It was formed in 1824. As of 2000, the population was 37,028. Its county seat is Mayfield6. The county is named for Major Benjamin Franklin Graves, soldier in the War of 1812 honored after the Battle of River Raisin.
The fertile land attracted early settlers from Virginia, North Carolina, South Carolina and Tennessee, who brought with them a degree of education and culture and a fierce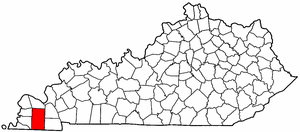 determination to succeed on the land. Remarkable in their achievements as craftsmen and farmers they put down roots to blend a political, economic, and social environment unique, perhaps only to Graves County. As one of Kentucky's largest counties, Graves's history of legends and leaders includes a US Vice President, four US Congressmen, famous and infamous heroes, singers and songwriters, noted writers and a legacy of historic sites. Tobacco was very much as part of the local economy over the years and Graves County has a rich history of the dark-fired and dark-air-cured leaf tobacco used in smokeless tobacco farming. A woolen mill, began operation prior to the civil war and continued to grow with the men's clothing market. Several clothing companies were added and the town's minor league baseball team was even called the Mayfield Clothiers.
Graves County is a "limited" dry county, meaning that sale of alcohol in the county is prohibited except by the drink in restaurants in Mayfield or at the Mayfield Golf & Country Club.