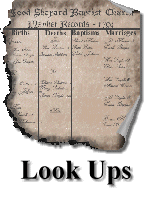 Look-Up Resources and Volunteers
Most adults possess the decorum to utilize a volunteer service without being rude or taking unfair advantage. I realize that most of us fall into that category, however, there are those nervy souls who would push the envelope. For that reason, I apologize for having to ask everyone to bear the following in mind when requesting a look up:
Please remember these people are volunteering their materials and, more importantly, their time. Limit your request to one or two names. Please don't ask for "every 'Smith' you can find". (Yes, someone out there would have the audacity.)
Remember that the authors and compilers of these materials have been gracious enough to grant permission for look-ups in their hard work. Do not take advantage of their generosity. Information provided will be minimal. You will be told whether or not the name was found in the resource and you will be given a date or other pertinent bare facts. The volunteer may alert you if it appears that the resource has an abundance of information on the line you are following. Do not expect details and in depth quoting of all information found. If the resource proves to be a gold mine of information on the line you are researching, ask the volunteer how you can purchase a copy of your own.
Please do remember to acknowledge receipt of the look up information and thank our volunteers. They do have projects of their own on which to spend their time and energy.

Look Up Resources and Volunteers
Mary Bishop
Green Co. Cemetery Books 1 - 4
Green Co. Marriages up to 1900
Green Co. Census 1850 - 1920
Green Co. Deaths 1911 - 1991 on Microfishe
Look Ups at Court House (Fee)
Adair Co. Marriages, Bible Records, and Census 1850 -1900
Kate Cook

(inactive until Fall)

Green Co. Ky Abstracts of Circuit Court Records 1-10
Green Co., Ky Abstracts of Deed Book 1-2, 1793-1801
Green Co., Ky Abstracts of Deed Book 3-4, 1801-1806
Green Co., Ky Abstracts of Deed Book 5-6, 1806-1814
Green Co., Ky Abstracts of Deed Book 7, 1814-1817
Green Co., Ky Abstracts of Deed Book 8, 1817-1820
Green Co. Ky Will Book 1, w/inventories (1795-1816)
Green Co. Ky Will Book 2 (1816-1839), w/Invent. (1812-1820)
Green Co. Ky Will Book 3 (1840-1875)
Green Co., Ky Will Book 4, 1875-1913
Green Co. Ky Abstracts of Deed Book 7 (1814-1817)
Cemeteries of Green County Volumes 1-4
Green Co. Processioners' Reports (1796-1830)
Green Co. Marriage Records Volumes 1-4 (1793-1868)
Index of the 1820 Federal Census
Ann Hoskins
"Edythe Cowherd Newton's Genealogy" - includes
COWHERD, RICHESON, RICHERSON GRAVES, BARNETT,
BLAKEY, CAVE, CRABB, PRICE, RAFERTY, SCOTT,
WILSON, and WOOD
"Jarnette and Allied Families in America" - includes
JARNETTE, COLLINS, McGEHEE, RICHARDSON, and
RICHESON
Vacancy
Vacancy
Marriage Index: IL,IN,KY,OH,TN 1720-1926 (CD#2)
Marriage Index: KY,NC,TN,VA,WV 1728-1850 (CD#229)
Social Security Records: U.S. 1937-1993 (CD#110)
Debbie Raque
1860 Green Co. Census
Green Co. Will Books 3 (1840-1875) & 4 (1873-1913)
Ruth Adkins Robinson
1890 Green County Tax Lists
Bill Smith
* Green Co. Old Marriage Certificates Book D (1836-1861)
* Green Co. Marriage Bonds Book D (1842-1853)
* Green Co. Marriages 1854-1868
Most Green County Abstract Books compiled by Barbara WRIGHT

*These resources are available from the Green County Public Library for $10.00. Address:

Green County Public Library
116 South Main St.
Greensburg, KY 42743
(502) 932-7081

Please tell them Green County KyGenWeb referred you!


Green County is in need of more look up volunteers and materials. If you have a genealogical resource in your possession and would like to volunteer as a Green County look-up person, we need your help! If you have authored a genealogical resource related to Green County and would like to grant permission for that resource to be used for look-ups, bless you! Contact me at E-Mail for more information.