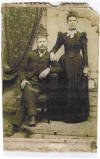 Victoria Rayburn Perry Hawkins Chilton, born ca 1860, died 1938.

Married (1st) in 1880 to James Perry, born ca 1855, died before 1905, when Victoria was md. (2nd) to George Washington Gaton Hawkins, 1849, 1815. George is buried in Port Royal Cemetery. GWG Hawkins on his stone.

Victoria md. next (3rd), John Chilton and both are buried in Turner Station,
Ky. (Can be found on Find a Grave.)

(No name of the man in the photo but because of the youth of man and Victoria, believe it is James Perry.)

This picture was given to me by Juanita Rose Smith.
Contributed By: Geneva Pettit

Henry Lee Hawkins, born April, 1873, died 8 Feb. 1938.
Son of George Washington Gaton Hawkins (GWG] and Lydia Ann Kelly, dau of Levi ( Lee) Kelly and Angeline Crabble.
Lee Kelly died in Owen County Kentucky about 1878. Son of Daniel Kelly and Rachel Clark. Can be found in 1850 Henry County Census living near Daniel Kelly and on settlement papers.
Henry Lee was born around Franklinton, Henry County, Kentucky and died on Gullion's Branch in Henry County, Ky.
GWG was born in Lexinton, Ky son of John Warner Hawkins and Therese Thornton.
Contributed By: Geneva Pettit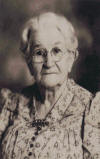 Pearl Hundley Hawkins was born in Port Royal, Henry Co., Kentucky, 14 April, 1873, the daughter of Evan Hundley and Elizabeth Paulina Fisher Willson. Evan was the town Blacksmith.
Married to Henry Lee Hawkins in Bedford, Kentucky. Lived in Carter County, Kentucky in 1900. Settled back into Henry County and lived out her married life on Gullion's Branch.

She died on 14 Dec, 1964 in a Shelbyville, Kentucky hospital.
Contributed By: Geneva Pettit