Mary Ada Hundley Taylor born 10 Jan, 1882 in Port Royal, Kentucky and died 24 May, 1975. Buried in Port Royal Cemetery. Daughter of Dudley & Rose Vaccaro Hundley.

Tholley Lamar Taylor born 27 May 1881 in Henry County, Kentucy the son of James Allen Taylor and Caroline Ford. He was a farmer lived in Henry
County near the Kentucky River. Died 08 August, 1974.

Picture given to me by Irene Taylor, dau in law.
Contributed By: Geneva Pettit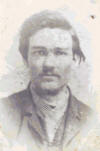 Dudley Hundley was born in Henry County near Port Royal, Kentucky on 1 Sept, 1840 and died in Louisville, Kentucky, 110 West Chestnut St, on 10 July, 1908. Place of burial is uncertain, may be St. Louis Cemetery. This is where his wife Rose Vaccaro, music teacher is buried. She died at the
age of 73 in Lousiville, on 2 Dec, 1912, living at 514 S Shelby Street.

Dudley was the son of Sidney Hundley and Nancy Owens.
Was a Blacksmith in town of Port Royal, ran a general store, was Town
Marshall in the 1880's. Cause of death was diabetes. Listed as Blacksmith in Louisville.
Rose Taylor Bruce gave me this picture of Dudley Hundley, her grandfather.
Her parents were Tholley and Mary Ada Hundley Taylor.

Contributed By: Geneva Pettit

Pearl Hundley Hawkins 1873-1964 Buried in Port Royal, Ky.
Mary Jane Hawkins Hopkins, 1878-1944 sister in law of Pearl. Aunt Molly buried in Port Royal, married to Ashby Hopkins, son of Wm and Martha Ann Tingle.
Mrs Beverly, mother of dau-in-law Pearl, Effie Beverly, married Joseph
Quincy Hawkins both died in Greencastle, IN and are buried in Port Royal.
This picture taken at the home of Gayle and Anna Smith Hawkins on Gullion's Branch Rd near Port Royal, Ky.
Picture given to me by Anna Smith Hawkins.
Contributed By: Geneva Pettit