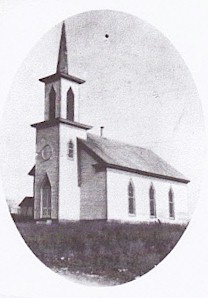 Christian Church, Port Royal, KY
Contributed By: Geneva Pettit

Clio Frances Robert, b: January 29, 1859: Augusta, Columbia, GA. d: April 26,1944: Louisville, Jefferson, KY
"Clio Frances Robert, eighth child of Dr. and Mrs. James Wilson Robert. She went from South Carolina to Midway, Kentucky, when thirteen years old; and the only return to her native state, South Carolina, was when she and her husband visited Georgia and South Carolina during the twenty sixth year of their married life.
Clio Frances Robert married in 1885 to Joseph McCallister Whaley, farmer, of Sharpsburg, Ky.
Contributed By: Beth Harrison Arnold

Joseph McAllister Whaley, b: September 7, 1859 in Sharpsburg, KY. d: June 18, 1930 in Eminence, KY
He lived in Bath County, Kentucky until 1921, then moved to Eminence, Henry County, Kentucky. He is great great grandson of General Thomas Fletcher, officer in the Revolutionary War."
Contributed By: Beth Harrison Arnold