Jesse Fears 1833 - 1883
Born in Henry County, Kentucky. Son of James Fears and Cynthia Clark Fears and husband of Elizabeth Hickman Evins. Jesse Fears is buried at New Castle Cemetery, New Castle, Kentucky
(Photograph circa 1875 - Submitted By: Ewing Fears Best)
Author of the Confession of Richard H. Shuck, 1877
CONFESSION OF
RICHARD H. SHUCK
A Member Of The Owen and Henry County Marauders
Of The STATE OF KENTUCKY.
Written by Jesse Fears
Frankfort, Ky.
Printed At The Kentucky Yeoman Office Major, Johnston and Barrett. 1877
Entered, according to Act of Congress, in the year 1877,
For Jesse Fears,
By Major, Johnston & Barrett.
In the Office of the Librarian of Congress, at Washington.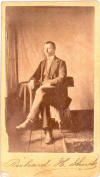 Photo and Document Contributed by Greg Shuck 06/13/2017
Richard Henry Shuck (this is an Adobe PDF document)
---
FlyLeaf Page of Book with Sketch of Richard Shuck
Appendix Pages 37, 38, 39 of the original book Contributed By: Greg Shuck