Earlington High School
1941 "Yellowjackets"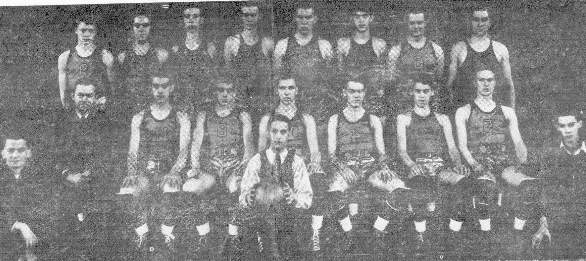 Bottom Row l-r: Leroy Vaughn, mgr; C Buford Webb, Coach; Wesley Coffman, David Webb, Hugh Hammers, mgr; Buddy Osborne; James McElroy; Chatten Wyatt; Jesse Sumpter; Arnel Farley, mgr.

Top Row: Marvin Newbold; Tommy Taylor; Lilbert Hawkins, capt; Jewell Larmouth; C C Quirey Jr; Joe Lansen; Wayne Cloern; Leon Adams.

On Friday night of this week, the boys pictured above will be trying for number 4 and 5 in their win column, for they are attempting the iron-man stunt of playing 2 teams in one night. The opponents will be Anton High School and Charleston High School, 2 members of the county system. Nothing is known of their teams, but it is conceded that it is hard to play 2 teams on one program. However, with the large squad available this season, a lot of play is what is needed in order to develop the best in the boys. To date the Jackets' record is as follows:


Jackets 35 - Wheatcroft Independents 30
Jackets 44 - Frendship 35
Jackets 36 - St. Joseph 16
Jackets 25 - Nebo 26
Jackets 25 - Farmersville 18


EHS cheerleaders are Wanda Smith, Jonell Oldham, Ray Taylor, Joel Hurley and Jane Webb.