Photographs
of
Jack Asher
Bettie Asher &
James Slusher
Submitted by Bradley Asher
On the left is "Bad"Jack Asher,his oldest Daughter Bettie Asher and her Husband James Slusher on the right.
This picture was taken in 1891 Clay Co,Ky.
Jack Asher was Bradley's grandfather.
Bradley's note:
Both Jack and George Matt were born in Clay Co,Ky. Jack Asher was called "Bad" Jack Asher. He was a son to Josiah & Elizabeth Asher of Red Bird, Ky. Jack was born on May....1859 and was shot and killed on August 29,1900. He is buried on Little Creek Beverly Ky, Bell Co,and George was born on Blue Hole in Clay Co, and was born on July 16,1878. He died on November 9,1954. at Dorton Branch Bell Co, and is buried on Breastwork Hill. Jack Asher was a brother to Wilkerson Asher,both being grandsons to Dillion Asher, 1777-1844.
---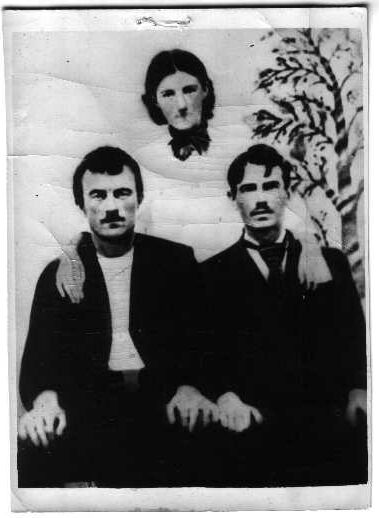 ---
If you have any Records you would like to add to the
Laurel County KyGenWeb page please
e-mail me