Marion County Cities & Towns

Transcribed from the 1881-82 Kentucky State Gazetteer and Business Directory, Vol. III

Reynolds Historical Genealogy Collection

Allen County Public Library, 900 Webster Street, Fort Wayne, IN 46801

Published by R. L. Polk & Co. and A. C. Danser
Gravel Switch
On the extreme eastern part of Marion county on the Knoxville branch of the L. & N. R.R., 12 miles east of Lebanon, the county seat and 80 south-east of Louisville. Adams Express. Daily mail. Population 25. J. A. Ferrell, postmaster.
---
Business District
Arntt B. E., physician
Brown G. A. D., physician
Crowders Enoch, blacksmith
Ferrill J. A., general store, Express and Railway Agent
Williams H. E., flour-mill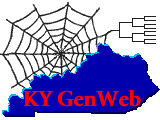 Copyright © 2008, 2009 - Marion County Genealogy Project. All rights are reserved. This information belongs solely to the submitter but may be used by libraries, genealogical societies and personal researchers; however, commercial use of this information is strictly prohibited without prior permission of the owners and/or submitters of this material. When copied for non-commercial and personal use, this copyright notice should appear with the information.
If you have arrived at this site via a paid subscription database service, please know that the data contained on KYGenWeb Project sites has been donated by hardworking volunteers and has been providing genealogical data and information, as well as help for researchers, free of charge since 1996.