Marion County Revolutionary War Pensioners

This list of Revolutionary War soldiers was drawn up by Anderson Chenault Quisenberry, Secretary of War to Congress in 1835 and published later by the Kentucky Society of the American Revolution. Contains all the pensioners under the Act of March 18, 1818 and the Act of June 7, 1832. If shown, the first date is when the individual was placed on the pension rolls; the second when the pension began. Age, if shown, would be age at time of application (for the act of 1818). Used with permission of Sandi Gorin sgorin@glasgow-ky.com. These PDF files are Public Domain documents housed in the National Archives and acquired through Heritage Quest. By clicking on the names below, you will bring up a PDF file with all pages intact.

These Files require the Adobe Acrobat Application, which can be downloaded free from Adobe's website...

Pensioners from Marion Co., KY or living in Marion Co. in 1840, following Pension application

Soldier
Rank
Description of Service

Date Placed on Pension Roll & Stipend

Age in 1840

COCKERELL, Bennet
Pvt.
Artillery, PA Line
Dec 1833 - $100
77
COMPTON, Edmund
Lt.
1st Regiment, MD Line
19 Aug 1823 - $320
PECK, William
Pvt
VA Militia
16 Apr 1833 - $20
70
RAMSEY, James
Pvt
Armands's Legion
20 Oct 1832 - $50
73
SPARROW, Henry
Pvt
VA Militia
4 Jan 1834 - $20
69
SUTTON, Richard F.
Pvt
VA Line
4 Jan 1834 - $80
78
THARP, Perry
Pvt
8th Regiment PA Line
6 Oct 1828 - $80
WALKER, Philip
Pvt
PA Line
23 May 1834 - $80
76
Also living in the county in 1840: Conrad BEAM, 82; James CORBETT, 81; Geo. SPALDING, Sr., 84; William HENDRICK, 95; James WHITECOTTON, 91; Susanne HARDIN (widow of Mark Hardin), 80, Margaret SMOCK (widow of Henry Smock), age 79. Total: 16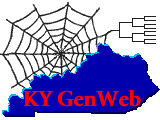 Copyright © 2008 - Marion County Genealogy Project. All rights are reserved. This information belongs solely to the submitter but may be used by libraries, genealogical societies and personal researchers; however, commercial use of this information is strictly prohibited without prior permission of the owners and/or submitters of this material. When copied for non-commercial and personal use, this copyright notice should appear with the information.
If you have arrived at this site via a paid subscription database service, please know that the data contained on KYGenWeb Project sites has been donated by hardworking volunteers and has been providing genealogical data and information, as well as help for researchers, free of charge since 1996.