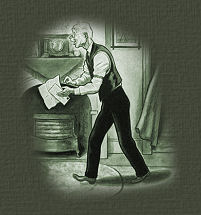 ---
C O V I N G T O N J O U R N A L
New Series--Vol. VIII, No. 1 COVINGTON, KY., JANUARY 30, 1875 Whole No. 373
---
PENDLETON COUNTY
Butler, KY., Jan. 25, 1875
Editor Journal
The depression in business which follows the excitement of the holidays, is unabated in this part of the country, although it does not extend to all branches of industry. While our merchants are enjoying (?) a pretty lengthy rest, the blacksmiths and carpenters are reaping their golden harvest in making or repairing agricultural implements for farm labor for the first year of the last quarter of the nineteenth century, or the last year of the third quarter of said century, I scarcely know which, but I had an opinion on the matter until the aggeravators in the Enquirer and Commercial, by the logic, eliminated it.
<![if !vml]>
<![endif]>
Albert Kidwell, a youth of 21 years old, died at his home in this village yesterday, of rheumatism; the disease reaching his heart. He had been confined to his bed for three weeks, but no fatal termination was apprehended; the sick man talking hopefully of the future up to fifteen minutes before his disease, at which time he sat up in bed, drank a glass of water and composed himself to sleep. Fifteen minutes subsequently, his father, hearing a groan or sob from the sick bed, hastened thither to find him breathing his last. Mr. Kidwell had been a brakeman on the Kentucky Central Railroad. He was well liked by all who knew him and his death is universally regretted.
<![if !vml]>
<![endif]>
Gideon M. Colvin, our indefatigable and popular School Commissioner, is here on his annual visit. He reports educational affairs in a prosperous condition, with hopes of continued and increased prosperity.
<![if !vml]>
<![endif]>
There is a dearth of news, except items too trifling for publication – a horrible state of affairs, and greatly to be deplored.
CON.