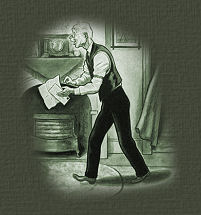 ---
C O V I N G T O N J O U R N A L
New Series--Vol. VII, No. 8 COVINGTON, KY., MARCH 21, 1874 Whole No. 319
---
[Correspondence Covington Journal]
PENDLETON COUNTY
BUTLER, Ky., March 16, 1874.
Editor Journal
The Primary election excitement having been allayed, the familiar shrieks of "Colin," "Chowning," "Wandelohr," "Roberts." &c., has given place to a gentle murmur of "Menzies," "Hallam," "Pryor," "Dudley," "O'Hara," et al. All the above named gentlemen have warm friends in these parts, but the name of "Charley Duncan" is uttered by all with an expression at once so familiar and significant as to leave little doubt of the "Colonel's" unanimous support by his fellow citizens of Pendleton.
Mrs. Rebecca Moore was burned to death on last Monday at Catawba, in this county. She has been burning some brush in preparation to make a tobacco bed, when her clothing caught fire and before succor could arrive, she was burned so badly that she died almost immediately. Mrs. Moore was one of the Hitch family, who are descendants of the oldest settlers, and among the most respectable families in the county. Her son, Edgar Moore, had, on the Saturday previous, received the Democratic nomination for assessor of Pendleton county.
J. B. Applegate, Clerk of the County Court, has received the nomination for the third consecutive term of that position, getting the largest vote cast. His opponent was Squire Minturn, of Morgan, a very worthy and popular man, and John's decided majority over the Squire is an evidence of the appreciation of our people for a good officer, and cannot be considered in the light of a humiliating defeat for Mr. Minturn.