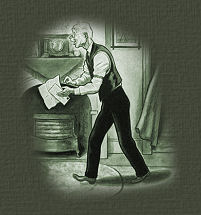 ---
BUTLER ENTERPRISE
Enterprise Publishing Co. BUTLER, KY., July 6, 1889 Volume V1. No. 8
---
PITH AND POINT.
~ He is young enough who has health, and he is rich enough who has no debts.
~ Blessings are usually celibates. Troubles marry and replenish the earth. - Burlington Free Press.
~ Men are responsible for sin, but not for infirmity. Infirmities are the mistakes which men make on their way to knowledge. - Beecher.
~ There are no persons more solicitous about the preservation of rank than those who have no rank at all. Shenstone.
~ Only by labor can thought be made healthy, and only by thought can labor be made happy, and the two can not be separated with impunity.
~ Don't be afraid of wild boys and girls; they often grow up to be the very best men and women. Wildness is not viciousness. - Herbert Spencer.
~ Right actions for the future are the best explanations or apologies for wrong ones in the past; the best, evidence of regret for them that we can offer or the world receive. - Edwards.
~ He who gives another an opportunity to do good by soliciting from him some act of goodness, has really done a favor to the latter which the latter may turn to his own benefit by doing the good act. - N.Y. Independent.
~ Mental ability and acquirement, physical strength, personal capability, pecuniary possession - whatever it is, we do well to keep something in hand - something not squandered abroad and strewn on the surface. - Once a Week.
~ The man who is busy working doesn't have time to read up on the subject of capital and labor, and the man who puts in his time reading on that subject doesn't have time to work. That's why no one reaches a complete comprehension of the difficulty - Merchant Trader.
~ If a fool knows a secret, he tells it because he is a fool; if a knave knows one, he tells it whenever it is in his interest to tell it. But women and young men are very apt to tell what secrets they know from the vanity of having been trusted. Trust none of these whenever you can help it. - Chesterfield.
~ Women famed for their valor, their skill in politics or their learning, leave the duties of their own sex in order to invade the privileges of ours. I can no more pardon a fair one for endeavoring t wield the club of Hercules than I could him for endeavoring to twirl her distaff. - Goldsmith.
~ Some people speak as if hypocrites were confined to religion, but they are everywhere; people pretending to wealth when they have not a sixpence, assuming knowledge of which they are ignorant, shamming a culture they are far removed from, adopting opinions they do not hold. - Rev. Albert Goodrich
~ A teacher in one of the city schools a few days ago was trying to instill patriotism into the minds of a class of small girls. Among other questions asked was: "Who was the father of his country?" There was a short pause, and a little hand went up. "Well, who was he, Jennie?" "Please, miss, I think God." - Indianapolis News.
~ It has always been the practice of mankind to judge of actions by the event. The same events, conducted in the sme manner, but terminated by different success, produce different judgements; they who attain their wishes never want celebrators of their wisdom and their virtue; and they that miscarry are quickly discovered to have been defective not only in mental, but in moral qualities. - N.Y. Ledger.