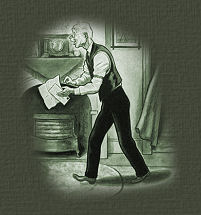 ---
BUTLER ENTERPRISE
Enterprise Publishing Co. BUTLER, KY., July 6, 1889 Volume V1. No. 8
---
TERMS: Sixty Cents a Year, in Advance.
Published at Falmoth.
The Enterprise was entered May 11, 1889, at the Post Office at Falmouth, Ky., as second class matter.
---
Annual Report of Trustees of School District No. 1,
Pendleton Co., KY
Made in accordance with an act of the General Assembly of Ky., and approved March 28 and April 4, 1884:
June 30, 1888 - To cash balance in hands of Treasurer

$8.79

Received Tuition

!10.00

July 18 - Rec'd of F.J. Fossett, Collector

$410.17

July 18 - Rec'd of E.F. Bradford from Oct. 18 to March 7

$748.80

July 18 - Rec'd from N.S. Dickerson from Dec. 21, '88 to June 29, '89

$1,434.14

Total Receipts

$2,611.90

CREDITS

By cash paid teachers different dates

$999.00

By cash paid to Janitors

$57.90

By cash paid for coal

$50.63

By cash paid for cleaning and repairing school building

$38..30

By cash paid interest bonds to June 1, '89

$300.00

By cash paid to Falmouth Dep. Bank on note

$482.00

By cash paid on Allen Young's notes and interest to date

$558.00

By cash paid insurance on school building

$0.60

By cast paid W.E. Wilson, copying tax list

$5.00

By cash paid N.S. Dickerson, commission for collecting

$59.40

Total amount paid

$2,601.23

Leaving balance in hands of Treasurer

$10.67

INDEBTEDNESS

W.W. Trimble's estate on bonds

$5,000.00

Balance on Allen Young's note

$170.00

Amt. Forward

$5,170.00

N.S. Dickerson

$84.01

The Guide office

$6.00

J.L. Riggle & Co.

$0.70

Total

$5,260.71

RESOURCES

Bal. in hands of Treas.

$10.67

Judgement against J.L. Dougherty

$15.00

Jessie Colbert, tuition 6 months, $1.75

$10.50

Taylor Watson's estate, tuition

$4.90

Joshua Ritter, tuition 6 months, $1.75

$16.20

Amt. due on delinquent tax list, in hands of N.S. Dickerson for collection for the following years:


| | |
| --- | --- |
| 1881 | $14.39 |
| 1882 | $50.36 |
| 1883 | $43.66 |
| 1884 | $157.16 |
| 1885 | $275.31 |
| 1886 | $251.85 |
| 1887 | $762.25 |
| 1888 | $1,009.07 |

Total amount uncollected

$2,564.05

$2,621.32
There is uncollectible of this amt. about $800.00. The amount standing indebtedness has been during the year reduced to one thousand and forty dollars.
We, the Board of Trustees of school district No. 1, P.A. Lightfoot, Chairman, P.E. Morgan, Theo. Bradford, Clerk, do hereby certify that the above report is a true statement of the financial condition of school district No. 1.


P.A. Lightfoot, Chairman.


Theo. Bradlford, Clerk.
Sworn to and subscribed before me by P.A. Lightfoot this 29th day of June, 1889.

W.C. Holt, County Clerk.
It is wonderfully astonishing how full the Counmty is of dead beats. The man who subscribes for his county paper, receives it a year or two and then writes the editor - please discontinue sending your paper to my address," and says nothing about paying for the paper, is a dead beat of the lowest order. There are a number such, and we do honestly believe their names should be published and the public warned against them. The country editor earns every dollar he receives, and the people who take his paper ought to pay him promptly. He is of incalculable benefit and value to his county. Boom your home paper, that it may boom you.

County Court Items
July Term.
S.W. Lummis applied for coffee house license, with the privilege of retailing spirituous, vinous and malt liquors. Petition and notice filed. County attorney objects.
Petition filed and election ordered in District No. 1 (Falmouth) on local option.
S.B. Ashcraft, infant over 14, chooses T.J. Browning for his guardian. Confirmed and gave bond.
Phoebe S. Larkin, infant over 14, chooses Robt. Wolfe her guardian. Approved and W.W. Poor on bond.
Alice F. Ashcraft waves her right to be appointed guardian for her infant children, Ethel M., Anna Maud and V.H. Ashcraft, all under 14 years of age. T.J. Browning appointed guardian.
Robt. North released from work on account of ill health.
W.T. Wood qualified as Constable in District No. 2. Took oath and W.B. Wood on bond.

The many friends of Mr. and Mrs. Allie Colbert will regret to learn of the very deep affliction which has overtaken them. In the loss of their little child, which died Sunday evening, the brightest ray of home's sunlight has faded. The little fellow was sick only a few days. Buried Monday in Riverside Cemetery.
Remember, The National Garment Cutter cuts all kinds of clothing for men, women and children. It is somehing every family should have and comes at a very small cost.
George Lummis, age 18, while bathing in Licking River, below Butler, Saturday evening, was drowned. Body recovered soon after and buried Sunday at Bethel.
Sunday evening, at Griffing's Ford, a young man by the name of Daniels was drowned, while bathing in Living River.
For a young man to be arrested who errs once, is a matter much to be regreted. Such a case occurred here last fourth and quite a little was excitement created.
Mrs. Harding, the expert milliner of Butler, reports business good.
Miss Stella Lawson, a charming young girl of Newport was here the 4th. Stella is an old Butler resident and we were glad to see her return.
A club house is being organized at Falmouth.
J.W. Bagby was here this week.
Robt. Wheeler was in Lexington last week.
Things to Do and to now.
Let every farmer teach his children to use tools and keep them in good order.
Half-barrel fish kegs make the best soap tubs. Pine is the only wood that will stand the cating action of soap.
Accustom cattle gradually to the green grass of the pasture in spring, letting them stay on only an hour or two for the first few days.
The gardner of the John Hopkins estate in Baltimore County, Maryland, has cultivated figs for 254 years and never failed an a crop.

Bottled Electricity, the only catarrh and headache cure. It cures catarrh, headache, neuralgia, hay fever, failing eyesight -- all aches and pains. Call on or address G.W. Scott, Butler, Ky.