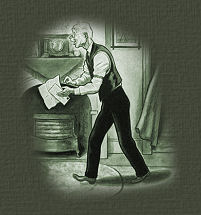 ---
C O V I N G T O N J O U R N A L
New Series--Vol. II, No. 29 COVINGTON, KY., AUGUST 28, 1869 Whole No. 81
---
Shocking Outrage.
Correspondence of the Enquirer
Demossville, Ky., August 26, 1869
A shocking outrage was perpetrated near the dividing line of Pendleton and Grant counties on yesterday morning. The particulars so far as I can learn them, are as follows;
Three young men, at the time and place referrer to, seized three ladies, two of them married, and a child of twelve years and violated their persons, causing the death of the child. This diabolical outrage has caused a great excitement in this county, and a party with ropes have started in pursuit and you may imagine the scene that will be enacted in case of the villains capture.
I think the young men are known to the citizens in pursuit, but I have not learned the names or other particulars, all of which I will be able, I think, to give you at an early date. Hastily, Con.
---
New Series.--- Vol. II. No. 16. COVINGTON, KY., MAY 22, 1869 Whole No. 68
Singular and Distressing Affair.
Falmouth, Ky., May 22, 1869
At Falmouth, Pendleton county, on Wednesday night last, about 12 oíclock, A. J. Hall, Esq., a young lawyer of that place, was aroused from his sleep by a noise at the front door of his dwelling, as if some one were endeavoring to break in. He proceeded to the hall into which the door opens and had just got there and demanded who was making the noise, when the door was burst open and he was confronted by a man in the door way--- Mr. Hall fired a single shot but with fatal effect. The man dropped dead. The body proved to be that of James Jones, a young man, very recently married, whose father, a farmer, in easy circumstances and of good repute, lives within two or three miles of Falmouth. Young Jones, when sober, conducted himself with propriety and was generally liked; but he had got into the habit of drinking to excess at intervals and when under the influence of liquor was wild and reckless. Gentlemen who were in Falmouth at the time and who knew Jones, do not believe he went to Hallís house with a malicious intent; and this opinion is strengthened by the fact that on a former occasion when under the influence of liquor, he entered a dwelling in town at night, laid down on the floor, and slept till morning. Mr. Hall did not know who had broken into his house until after he fired the fatal shot; and although justified in the act by the jury at the coronerís inquest, and indeed by the public voice of Falmouth, is sorely distressed and deeply regrets the occurrence. Mr. Hall is well known and highly esteemed in this city, he having read law in the offices of Messrs. Stevenson & Myers.