Obits
Submitted by Gary Thomas
Chronicle-Tribune; Tuesday, December 9, 2003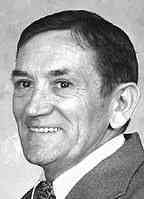 Raymond E. Ballinger
Raymond E. Ballinger, 79, died at 9:20 a.m. Sunday in Marion General Hospital Extended Care Facility.

He was born in Orlando, Ky., the son of the late William and Martha (Dooley) Ballinger. He married Martha E. Banks on July 26, 1946. She survives. He was a machine operator with Dana Corporation for 32 years. He retired in 1989. He was an Army veteran of World War II and the Korean War.

He was a member of the Sympathy Club at Dana and the American Legion, Van Buren. He enjoyed hunting and gardening.

In addition to his wife, survivors include his children, James T. "Tip" (Elaine), Marion, Phyllis K. (Kenneth) Vest, Somerset, Donna R. (Steven Huffman), Marion; son-in-law, William L. Runkle, Lafayette; nine grandchildren; and seven great-grandchildren.

He also was preceded in death by a daughter, Janie L. Runkle.

Services are at 1:30 p.m. Wednesday in Raven-Choate Funeral Home, 1202 Kem Road, with Pastor Jim Sexton officiating. Burial with military rites is in Gardens of Memory cemetery, Huntington County.

Friends may call from 5-8 p.m. today at the funeral home.