Obits
Submitted by Gary Thomas
The Sentinel-Echo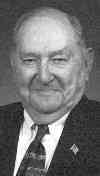 Henry Omer Clark

Services for Henry Omer Clark, 87, of 222 Woodhill Lane, Frankfort, Kentucky, was conducted at 10 a.m. Thursday at Harrod Brothers Funeral Home in Frankfort.

He died Monday, July 5, 2004, following a sudden illness.

Burial was at the A.R. Dyche Memorial Park in London at 2 p.m. Thursday.

Born August 13, 1916, in Rockcastle County, he was a retired Roadmaster of 47 years of service with L&N and CSX railroads. He was a member of the Hiram Lodge #4, a 32nd Degree Mason, Scottish Rite Valley of Lexington, Orient of Kentucky, Shriners of Lexington, and a member of the Immanuel Baptist Church.

Survivors include his wife of 67 years, Anna Louise Barlow Clark of Frankfort, Kentucky; three sons, Norris R. Clark of Lexington, Kentucky, Robert "Bob" Clark of Lexington, Kentucky, and Ernest L. Clark Sr. of London, Kentucky; one brother, Raymond Thomas Clark of Mason, Ohio; seven grandchildren; and eight great-grandchildren.

He was preceded in death by his daughter, Mary Dell Clark.

The Rev. Charles Queen officiated at the funeral service. Dr. Terry Lester conducted the Committal Service in London.

Active pallbearers were members of the London Fire Department.

Masonic Rites were conducted at 7:30 p.m. Wednesday, July 7, at the Harrod Brothers Funeral Home by the Hiram Lodge #4.