The True Story of Captain Quantrill

Wednesday, August 10, 2005 12:46 PM EDT
TOM WATSON, HISTORIAN

This is the true story of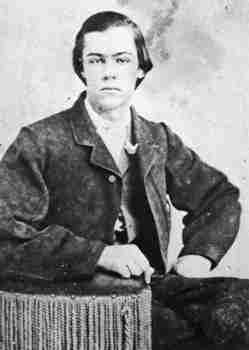 Capt. William Clarke Quantrill (c) Thomas Shelby Watson, 1972.
Quantrill's last stand near the village of Smiley in Spencer County. It is an excerpt from the book "Sue Mundy and other Guerrillas of the American Civil War."

Many years ago, a documentary called "The Silent Riders" was broadcast on WAKY Radio in Louisville, then was heard on stations in Kentucky and Missouri. The documentary won several awards, including a Freedom's Foundation Award. Since then, Perry Brantley of Glasgow, Ky. and yours truly have been working on an all-inclusive book on Civil War guerrilla activity in Kentucky. The soon-to-be published book is entitled "Sue Mundy and other Guerrillas of the American Civil War."

The following excerpt concerns the last fight of Confederate guerrilla leader, Capt. William Clarke Quantrill on James Heady Wakefield's farm near the town of Smiley, later called Smileytown, between present day Wakefield and the Spencer-Nelson County line. During the Civil War, there was no village called "Wakefield."

This excerpt is being offered in an effort to clear up some misconceptions about Quantrill's last battle, right here in Spencer County. It is this county's most important historical event.

Quantrill was born in Dover, then Canal Dover, Ohio, and taught school at his father's academy when still a teenager. He later taught in one-room school houses in Indiana and Kansas.

When the Civil War broke out, Quantrill used riding skills he'd learned from the Delaware Indians to lead a band of southern sympathizers against the Jayhawkers on the Kansas-Missouri border in what has been termed the "Border War." His most infamous raid was on Lawrence, Kan., when just over 140 men and boys old enough to handle a gun were killed. Quantrill led a massive force of horsemen into the town, killed and pillaged, then left Lawrence, Kan. in flames.

After the documentary was broadcast, the scripts and about 40 photos were published into a small book by Beechmont Press of Louisville. It is no longer available and has become a rarity. Perry Brantley and I hope our book will cover Quantrill sufficiently as well as other soldiers of fortune.

From our book, footnotes excluded, here's what really happened at present day Wakefield.

"On the morning of May 10, 1865, storm clouds began to spread over Kentucky. Quantrill had been at John Bedford Russell's home on Ashes Creek in Spencer County at the Spencer-Nelson County line. While there, Russell's daughter, Betty, 18, presented Quantrill with a beautiful saddlebred horse. McClaskey family tradition says Quantrill and his men, numbering between 15 and 20, rode out that Wednesday morning toward Chaplin, to the southeast and stopped at the home of Newell McClaskey, then proceeded northward in the direction of Taylorsville.

The horsemen turned in at the gate of farmer James Heady Wakefield where a Negro blacksmith, Almstead Jacobs, operated a shop. Jacobs said later that he counted 21 riders. James Heady Wakefield reported Quantrill had 15 men with him, and that was nearly the same total heard most often in local recollections by old timers.

In his Noted Guerrillas, or the Warfare of the Border, John Newman Edwards had a partial list of the men with Quantrill that day: John Ross, Allen Palmer, William Hulse, Lee McMurtry, Bud and Donnie Pence, Dick Glasscock, Clark Hockensmith, Isaac Hall and David Helton. A Bloomfield-area guerrilla, Eliphilet "Babe" Hunter was there, according to his son, Phil Hunter, interviewed by the author many years ago when he was in his 90s. Others present may have included: Jackie Graham, Ran Venable, Andy McGuire, Jim Lilly, Tucker Basham and Slyvester Akers. That would be 17.

It had been raining and as Quantrill and his men approached Wakefield's barn, the rain became a deluge. The horsemen, dripping wet, dismounted and took cover under the barn's sheds that projected out 15 feet on three sides of the structure. Babe Hunter, 25, spoke with Quantrill just before the guerrilla chief took a nap in the mow. Quantrill had told the Missourians he had known the South was losing the war and wanted to get the men to Virginia so they could surrender with Gen. Robert E. Lee and be paroled. That goal having been lost because of Lee's surrender in April, 1865, he was now asking them to follow him to Mexico.

Others also talked in the barn, sampled whisky supplied by Wakefield, and a few were involved in a sham battle, using corncobs as weapons. At the same time federal decoy guerrilla Ed Terrell of Shelby County and 20 of his men were arriving at the blacksmith shop where Terrell saw horse tracks in the mud, leading up the rough farm road to Wakefield's place. Blacksmith Almstead Jacobs confirmed that riders had gone toward Wakefield's a short time earlier. Had he said anything else, and Terrell later discover that he lied, Jacobs knew he would be a dead man.

Jacobs' act of directing the federal scouts to Quantrill's location was historic. Here was what turned out to be one of the last skirmishes of the Civil War, and it was a black man's information that led to the destruction of a hold-out band of rebels, led by the most infamous guerrilla leader of the war.

Terrell directed his men up the slope and into a pasture leading to the barn lot. They were drawing their revolvers and unslinging their carbines when Dick Glasscock, who had been standing under the shed talking to farmer Wakefield, spotted them coming. "Here they come!" he shouted once and then again.

At the first indication of trouble, one man grabbed a feed basket, raced from the barn into an adjacent field and posed as an innocent farmer calling the hogs. When the attackers ignored him, he fled.

There was a scurry for horses as bullets began crashing into the barn. The gift horse became wild and Quantrill could not get mounted. Several guerrillas jumped their horses over a gate in the southwest corner of the barn lot. Glasscock and Clark Hockensmith were the last two on horseback and headed toward a grove of sugar maples, Quantrill following on foot. He yelled to them and waited, firing to check the pursuit.

Quantrill ran alongside Glasscock, trying to mount, but Glasscock's mare was shot in the hip. Quantrill fired in an effort to hold off Terrell's men, then tried to mount behind Hockensmith.

Quantrill, running toward a horse trail that could have been an escape route, was shot in the back. John Langford's bullet glanced off the right shoulder blade and ranged down, lodging in the right groin and leaving Quantrill paralyzed below the hips.

Terrell rode up and fired as Quantrill lay on his left side, the bullet ripping off the trigger finger of Quantrill's right hand. Both Hockensmith and Glasscock were killed as they tried to flee the hail of lead.

Quantrill was taken to the Wakefield house where he claimed to be Capt. Clarke of the Fourth Missouri Cavalry, but Terrell doubted that to be the case. Terrell's men began ransacking Wakefield's house until the farmer gave Terrell $20 and Terrell's Shelby County, Ky. buddy Joe Taylor $10 to stop. The deal was sweetened with a quantity of whisky for each."

(c) 2005 Thomas Shelby Watson and Perry A. Brantley. No portion of the following may be used on the Internet, published or otherwise exploited.

A Hollywood producer has plans to do a movie about Quantrill and I have done everything I know to do to persuade him to film it in Spencer County. Perry and I took Jerry and two vanloads of screenwriters on a tour of possible shooting sites in Spencer and northeast Nelson counties sometime back. He really liked what he saw. When will the movie be made? Whenever he decides to make it. The tour I spoke of was a few years ago!

Remember, the Historic Pathways staff, me, would like to see your old pictures, before 1920s mostly, and especially 1800s, of places, people and things. Our immediate needs for the book are pictures of Isaiah Coulter, Babe Hunter, Betty Russell, Joe Taylor, Almstead Jacobs, diaries, ledgers, letters and other items relating to the Civil War in Spencer, Nelson, Marion, Jefferson, Bullitt, Shelby, LaRue and other area counties. Somewhere in Spencer or Nelson counties, there's a photo of several Civil War soldiers on the porch of a house. The guys are likely wearing hats and there may be horses hitched nearby. Please let me know if you've ever seen it or know who has it. Thanks for your help.
Write to: Tom Watson, 5225 Little Union Road, Taylorsville, Ky., 40071. Phone (502) 252-9991 or email apwriternews@yahoo.com.
spencermagnet.com is the website of



©2001 The Spencer Magnet

Have a news tip?
Send it to us at spencermagnet@ka.net

This page reproduced with permission of Tracy Combs, Editor/GM, The Spencer Magnet


Do you have a question or comment? Email me.
This site maintained by Diane Bollschweiler for the KY GenWeb project.

Copyright 1996 - 2008