PHOTO: Ashes Creek Schoolhouse
Please consider submitting to this web site Spencer County data to which you have access.
Birth, marriage or death records, obituaries, family histories, photos, deeds, wills or other information you may have, could be shared with other researchers. REMEMBER someone shared the information you currently find here.
Won't you consider returning the favor?

Please email Diane Bollschweiler if you have Spencer County
information that you would like to submit to the Spencer County Website
or if you are able and willing to do lookups.
---
PHOTO: Images of yesteryear school days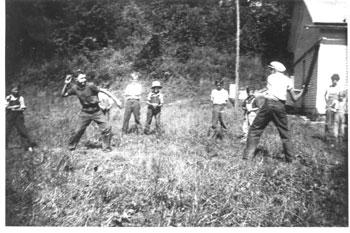 This scene at the Ashes Creek Schoolhouse in 1937 was one that was probably often repeated in schoolyards all over this area as a group of youngsters spend recess playing baseball.
---
spencermagnet.com is the website of



©2007 The Spencer Magnet

Have a news tip?
Send it to us at spencermagnet@ka.net

This page reproduced with permission of Tracy Combs, Editor/GM, The Spencer Magnet
---
Return to Spencer County
This site is maintained by Diane Bollschweiler for the KY GenWeb project.