Images of yesteryear school days
Please consider submitting to this web site Spencer County data to which you have access.
Birth, marriage or death records, obituaries, family histories, photos, deeds, wills or other information you may have, could be shared with other researchers. REMEMBER someone shared the information you currently find here.
Won't you consider returning the favor?

Please email Diane Bollschweiler if you have Spencer County
information that you would like to submit to the Spencer County Website
or if you are able and willing to do lookups.
---
Images of yesteryear school days
By Tom Watson, historian
Wednesday, January 3, 2007

School pictures are frequently submitted for publication, but in most cases the names of the students are not included. This week, we offer a class picture from Taylorsville High School (year uncertain), and some boys playing something akin to baseball in 1937.

"Something akin to baseball" is used because the ball looks like a hard rubber ball about the size of a pool ball and the bat like a two-by-two, although it could be a real bat. It was common for kids to play with a real baseball until somebody knocked the cowhide off or the threads were worn and snapped. When that happened, you were left with the core of the baseball, which was a hard, rubber ball.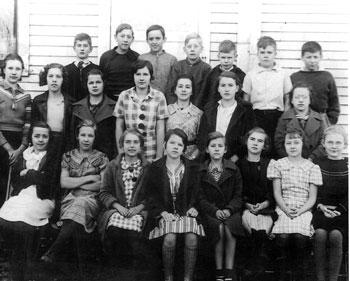 This was a picture taken at Taylorsville High School but the year and identities were not recorded. Tom Watson would like help identifying those in the picture.

The ball game was at Ashes Creek before the school was moved to the interpretive area of Taylorsville Lake State Park. Virgie Martin Cull gave the picture to the Corps of Engineers in 1981 and you may have seen it on a wall inside the Spencer County Courthouse.

I presume Virgie took the picture, because there are a number of Ashes Creek pictures bearing her name as the provider when Corps officials called for photos of the area that was going under water.

The Taylorsville High School photo is marvelous and the clarity of the faces in the school picture is wonderful. I see people I believe I knew, based on the way they looked in later years. The high school picture may have been taken before I was born.

Rather than offer my guesses, why don't we ask our readers to identify all they can this way. First row, left to right; second row, left to right and third row, left to right. If you know anything about the people, you may, for instance, include: Name, who married (name), or who died (the date).

The Ashes Creek Schoolyard picture may be identified the same way (left to right) and include the young man behind the pitcher's arm as third from the left.

Hope you have a good 2007.

You may email your replies to apwriternews@yahoo.com or send a letter to: Tom Watson, 5225 Little Union Road, Taylorsville, Ky., 40071. Since it would take so long over the phone, let's reserve these replies to email or snail mail. (My apologies to the postmaster).
---
spencermagnet.com is the website of



©2007 The Spencer Magnet

Have a news tip?
Send it to us at spencermagnet@ka.net

This page reproduced with permission of Tracy Combs, Editor/GM, The Spencer Magnet
---
Return to Spencer County
This site is maintained by Diane Bollschweiler for the KY GenWeb project.