Former Mitchell Run school student shares memories
Please consider submitting to this web site Spencer County data to which you have access.
Birth, marriage or death records, obituaries, family histories, photos, deeds, wills or other information you may have, could be shared with other researchers. REMEMBER someone shared the information you currently find here.
Won't you consider returning the favor?

Please email Diane Bollschweiler if you have Spencer County
information that you would like to submit to the Spencer County Website
or if you are able and willing to do lookups.
---
Former Mitchell Run school student shares memories
Silas and Hallie Burkhead recently came into the Magnet office with these photos of the old Mitchell Run School.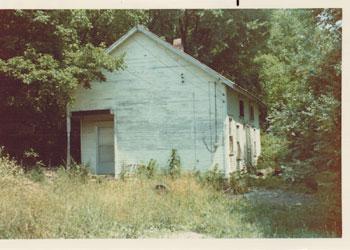 Silas is pictured in the photo from the 30s.

Silas Burkhead said his mother, Bessie Mae Hatchett, attended the Mitchell Run School in 1910. Above, this is the last building that housed the Mitchell Run School. The area was eventually covered by Taylorsville Lake. One of the teachers they rememberd at the school was Miss Elizabeth Crafton of Taylorsville. It was said she always ate a sweet pickle with her cake.

Mattie Southerland was another teacher they remembered.

Two of the Burkhead's children also attended the school, which eventually closed.

Silas also remembers a few lighthearted moments at the school, like the time he poured a bucket of drinking water out the window onto Agnes Bolin, Margie Love and Frances McGaughey while they were peeking around the corner looking for him so they could pour water on him.


---
spencermagnet.com is the website of



©2007 The Spencer Magnet

Have a news tip?
Send it to us at spencermagnet@ka.net

This page reproduced with permission of Tracy Combs, Editor/GM, The Spencer Magnet
---
Return to Spencer County
This site is maintained by Diane Bollschweiler for the KY GenWeb project.