Readers help identify school photo
Please consider submitting to this web site Spencer County data to which you have access.
Birth, marriage or death records, obituaries, family histories, photos, deeds, wills or other information you may have, could be shared with other researchers. REMEMBER someone shared the information you currently find here.
Won't you consider returning the favor?

Please email Diane Bollschweiler if you have Spencer County
information that you would like to submit to the Spencer County Website
or if you are able and willing to do lookups.
---
Readers help identify school photo
By Tom Watson, historian
Wednesday, January 10, 2007

The Taylorsville school picture from last week was apparently of a fifth grade group. Earl and Hazel Slucher offered these identities:

Back row (left to right): M.L.Greenwell, Buddy Hochstrasser, Thomas Wallace, David Metts, Paul Greenwell, Hugh Parchman and Halstead Cheatham.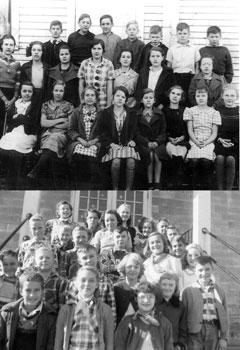 Above: Taylorsville School. Below: Elk Creek School, 1951.

Middle row (l-r): Lora Tapp, Jessica Carlisle Driscoll, Mary Virginia Howerton Southworth, Anna Ruth McClain Day, Jane Wiggington McElroy, Roberta and Mildred Wheatley.

Front row (l-to-r): Nellie Ruth Sutherland Hopewell, Marie Napier, Irene Shelburne Kelien, Edith Slucher Helton, Wilma Brookshire Stump, Hazel Snyder Slucher, Martha Black Broderick and Jean Booth Schriner.

This week, we move forward several years. It was 1951 when Sherrell Spears (the wife of John Carr, Jr.,) gathered fourth, fifth and sixth graders together at the Elk Creek School for this picture.

Anyone who can list the identities, send an email or regular letter. We're going left to right.

Let's call row one, the boy and two girls at the bottom of the picture. Row two will be the six directly behind them. Row three, boy, boy, boy, tall girl and girl whose face is partially hidden.

Row four will be the girl whose face is visible between and behind the two boys, another tall girl, then a boy whose face is clearly visible behind the first tall girl and the girl whose face is partially hidden in row three.

Now, the rest, left to right on the back row: looks like four girls and a boy.

Sherrell says Dudley Dale and Billy Florence would be good sources to help with this one.
---
spencermagnet.com is the website of



©2007 The Spencer Magnet

Have a news tip?
Send it to us at spencermagnet@ka.net

This page reproduced with permission of Tracy Combs, Editor/GM, The Spencer Magnet
---
Return to Spencer County
This site is maintained by Diane Bollschweiler for the KY GenWeb project.