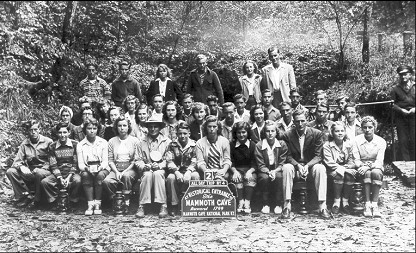 Knifley High School Excursion to Mammoth Cave - 5 October 1949
Front Row, L to R: Billy H. GENTRY, Frank DICKERSON, Hilda RICH,
Mary F. MARTIN, John DUNBAR, Principal, Dean BARNETT, Jean WOODS,
Patra GILES, Arlene FERGUSON, Welby SIMPSON, Nelda CLARKSON,
Cora W. SIMPSON;
Row 2: Helen GREER, Chrystal EASTRIDGE, Betty Jean CHELF, Clarice BAILEY,
Iona HOLCOMB, Audrey GOODE, Irvin HARDWICK, Emma Lou HOLTZCLAW,
Maurice MINGS, Victor CLARKSON, James KNIFLEY;
Row 3: Ms. Readie TUCKER, Teacher, Maxine ALLEN, Joyce GRANT, Hoyt SCOTT, Joe SPIRES, J.W. SANDERS, Arthur GILES, Wm. H. "Bud" MARTIN, Elvin GILES, Johnnie PROCK, Gene MORGAN;
Row 4: Harold INABNIT, Dean TEDDER, Evelyn RICH, Lewis HARDIN,
Barbara WILLIAMS, Marshall GOODE.
Contributed By: Frank Dickerson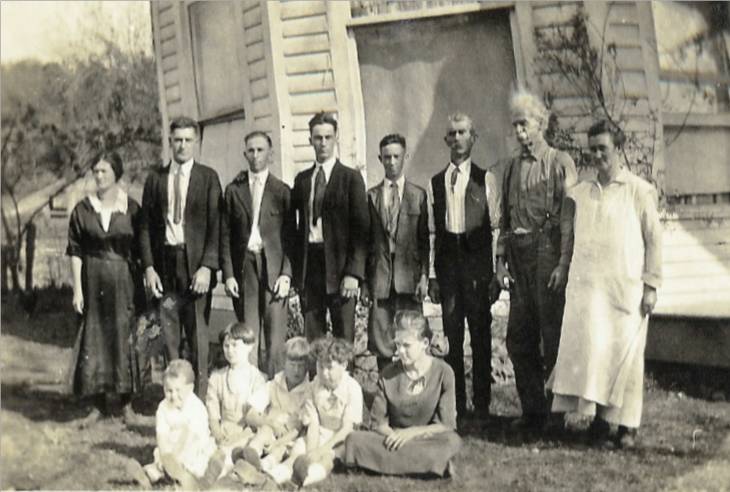 James N. Petty Family
James Newton Pett(e)y and Nannie Morgan Pett(e)y (Adults on far right). These are my great-grandparents.
The woman on the far left is my grandmother, Annie Cleveland Pett(e)y Morgan. The other adults in the photo are other children of James and Nannie. The children seated are the children of Annie.
Contributed By: Sandy Weatherford