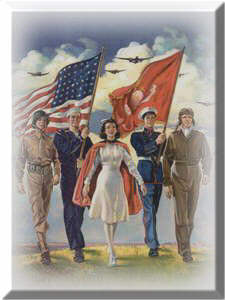 Tributes to Our Veterans
(Thanks to all of you for your contributions.)
Check out more Veteran Tributes from around South-Central Kentucky.
[I received a note from the composer of this song: I wrote this song to pay tribute to All Veterans and would be honored if you choose to post it on your Patriotic website. I thank you and God Bless! My thanks to you, Jerry, for sharing.]
A Tribute to Veterans



In Vietnam, Korea and World Wars Past
Our Men Fought Bravely so Freedom Would Last
Conditions Where Not Always Best They Could Be
Fighting a Foe You Could Not Always See:
 
   From Mountain Highs to Valley Lows
   From Jungle Drops to Desert Patrols
 
Our Sinewy Sons Were Sent Over Seas
Far From Their Families And Far From Their Dreams
They Never Wrote Letters Of Hardships Despair
Only Of Love, Yearning That One Day Soon:
 
   They Would Come Home, They Would Resume
   And Carry On With The Rest of Their Lives
 
The P.O.W.šS Stood Steadfast
Against the Indignities And Cruelties Of War
They Could Not Have Lasted as Long as They Did
If They Had Relinquished Their Hope That Some Day:
 
   They Would Come Home, They Would Resume
   And Carry On the Rest Of Their Lives
      
Medics, Nurses, and Chaplains Alike
Did What They Needed To Bring Back Life
They Served Our Forces From Day Into Night
Not Questioning If They Would Survive:
 
   They Mended Bones And Bodies Too,
   They Soothed the Spirits of Dying Souls
 
And for Those M.I.AšS, Who Were Left Behind
We Echo This Message Across the Seas
We Will search For as Long As It Takes
Youšre Not Forgotten And Will Always Be:
 
    In Our Hearts, In Our Prayers,
    In Our Minds For All Time
 
A Moment of Silence, a Moment of Summons
Is Their Deliverance of Body And Soul
To a Sacred Place That We All Know
Deep In the Shrines of Our Soul:
 
   In Our Hearts, In Our Prayers
   In Our Minds For All Time
 
INTERLUDE:
      GOLD STAR MOTHERS GRIEVE: ENDLESSLY,
      ENDLESSLY, ENDLESSLY.......
 
These Immortalized Soldiers Whose Bravery Abounds
Theyšre Our Husbands, Fathers, and Sons
They Enlisted For the Duty at Hand
To Serve the Cause of Country and Land:
 
   They Had Honor, They Had Valor,
   They Found Glory That Change Them Forever
 
Men Standing Tall and Proud They be
A Country Behind Them in a Solemn Sea
So Let the Flags of Freedom Fly
Unfurled in Their Majesty High:
 
   In the Sun, In the Rain
   In the Winds Across This Land
 
Years of Tears Has Brought Us Here
Gathering Around to Hear This Sound
So Let the Flags of Freedom Fly
Unfurled in Their Majesty High:
 
   In the Sun, In the Rain,
   In the Winds Across This Land
    
REPEAT:
 
   In the Sun, In the Rain,
   In the Winds For All Time
 

Written by Jerry Calow (copyright 2003)

[Origin of Memorial Day]
On May 5, 1868, General John A Logan, Commander-in-Chief of the Grand Army of the Republic, issued General Orders No 11 from his headquarters in Washington, D.C. It read as follows:
I. The 30th day of May, 1868, is designated for the purpose of strewing with flowers or otherwise decorating the graves of comrades who died in defense of their country during the late rebellion, and whose bodies now lie in almost every city, village and hamlet church-yard in the land. In this observance no form of ceremony is prescribed, but Posts and Comrades will in their own way arrange such fitting services and testimonials of respect as circumstances may permit.
We are organized, Comrades, as our Regulations tell us, for the purpose, among other things, "of preserving and strengthening those kind and fraternal feelings which have bound together the soldiers, sailors and marines who united to suppress the late rebellion." What can aid more to assure this result than by cherishing tenderly the memory of our heroic dead, who made their breasts a barricade between our country and our foes. Their soldier lives were the reveille of freedom to a race in chains, and their deaths the tattoo of rebellious tyranny in arms. We should guard their graves with sacred vigilance. All that the consecrated wealth and taste of the nation can add to their adornment and security, is but a fitting tribute to the memory of her slain defenders. Let no wanton foot tread rudely on such hallowed grounds. Let pleasant paths invite the coming and going of reverent visitors and fond mourners. Let no vandalism of avarice or neglect, no ravages of time testify to the present or to the coming generations that we have forgotten as a people the cost of a free and undivided Republic. If other eyes grow dull, and other hands slack, and other hearts cold in the solemn trust, ours shall keep it well as long as the light and warmth of life remain to us. Let us, then, at the time appointed gather around their sacred remains and garland the passionless mounds above them with the choicest of flowers of spring; let us raise above them the dear old flag they saved from dishonor; let us in this solemn presence renew our pledges to aid and assist those whom they have left among us a sacred charge upon a nation's gratitude, the soldier's and sailor's widow and orphan.
II. It is the purpose of the Commander-in-Chief to inaugurate this observance with the hope that it will be kept up from year to year while a survivor of the war remains to honor the memory of his departed Comrades. He earnestly desires the public press to call attention to this Order, and lend
its friendly aid in bringing to the notice of Comrades in all parts of the country in time for simultaneous compliance therewith.
III. Department Commanders will use every effort to make this Order effective.
Borrowed [preserved] from Cathy Labath with thanks.
Tom Otto

IT HAS ALWAYS BEEN...
It has always been the soldier
not the reporter
who has given us Freedom of the press
It has always been the soldier
not the poet
who has given us Freedom of speech
It is the soldier
not the campus organizer
who has given us the Freedom to demonstrate
It is the soldier
who salutes the flag
who serves under the flag
whose coffin is draped by the flag
who allows the protesters to burn the flag!
It is the soldier...
It has always been the soldier!
--Unknown
Reprinted in the Ohio Chapter of the National Daughters of the American Revolution Resolutions--2002

James Edward Chilton
Born on Oct 14 1839 in Breedings, Adair County, Ky, he died Oct 22 1927 in Peeweevalley, Oldham County, Ky.

He married Sarah Jane Pickens on Dec 13 1865 in Creelsboro, Jamestown, Russell County, Ky.
He served as a LT in the 1st Cavalry in 1865.

James was the son of Joshua Lewis Chilton 1818-1889 & Martha Ellin Freeman 1820-1857 and is buried Piercey Cemetery, Clinton County, KY.
James was raised in Clinton County.
Siblings of James were William Oscar, Joshua Crittenden, Edwin Young, Richard Thomas, Frances Ione, Elizabeth A, Robert Henry Chilton.

Submitted by Janet Aunan

* * * *

DAVIS, John
The Revolutionary War began in 1776, and John (1758) our ancestor, who was living in Bottetourt Co. Virginia, enlisted in the Army. During the early part of the war, he was in one battle and then became sick. He was about to leave for home when his brother Thomas arrived and took his place. Before John could return, Thomas, who apparently liked the Army, enlisted for three more years. John then returned and replaced Thomas and served until the end of the War.

John was in the 7 th Virginia Regiment under Col. William McClannahan. He was with several different Generals, but all of those under whom he served were always with Washington, including General Lewis. John wrote that he marched from Virginia to Boston to New York to Virginia. He must have been in each of Washington's victories and defeats. He wrote that he was once standing guard one night when a British shell exploded and blew off the barrel of his gun. He was stunned and his clothing was set on fire. His fellow soldiers extinguished the fire and he recovered. John was in the final assault on Cornwall at Yorktown where the British surrendered.

After the war John and his eldest brother Robert D. went to Tennessee. Records of land transactions are found in Grainger Co.between Ephriam Guffey and John and he is said to have lived in Sevier Co. prior to 1798 when he moved to Wayne Co. Kentucky. His older brother Robert became a well known minister and the Chapel in Clinton Co. Kentucky (formerly Wayne) is named in honor of his son. (Wayne and Clinton Co.) Submitted by Dr. T.R. Hopkins

HANCOCK, Major-- He was mustered into the Patrick Co VA militia under his brother-in-law Capt. Jesse Corn when he became of age near the end of the Revolutionary War.(Wayne and Clinton Co. Submitted by Dr. T.R. Hopkins

HOPKINS, Dennis -- During the Revolutionary War he joined the Light Cavalry and rode against the Tories in adjoining counties where he "helped catch and hang and drive them out of the country". His first enlistment was in 1780 and after returning home he decided it was safer to be in the Army and he reenlisted. His pension was refused at first for lack of proof (R5208NC) but was accepted in later years. Submitted by Dr. T.R. Hopkins

MORROW, Thomas -- He signed the oath of Allegiance in Henry Co. VA, 2 Sept., 1776. He is classified as a Patriot in Public Service Claims, Henry Co., VA; Certifcate 92. He is however listed as a Lt. in the Henry Co. VA militia . (Wayne Co) Submitted by Dr. T.R. Hopkins

WADE, Richard -- After serving a term in the Army in 1777 he moved to Bedford Co. Virginia. He re-enlisted in Bedford Co. in a Company commanded by Captain Watkins to defend the frontier. He was sent to Boonesboro, Madison Co. Kentucky and served under Daniel Boone. He arrived there on 12 October, 1778.

The Fort ran low on salt and Boone took Richard and 27 others to Blue Licks to gather salt. They were surrounded and forced to surrender to the Indians led by Old Blackfish. They were taken to a village on the Ohio River and then to Detroit where they were sold to the English. Richard and John Brown were kept in the village until the corn was planted and then they were also taken to Detroit and held until the next summer. Seven of the prisoners escaped and made their way back to the Ohio River where the Maumee Indians recaptured them. They were taken back to Detroit, placed in leg irons, put on a boat and taken to Montreal. After two years in prison in 1781, Richard, John Brown, John Morton, James Hack, George Finley and William Marshall were put to work on a mill-race from where they all escaped. They made their way to Maine then to Boston and split up. Richard went on to Pittsburgh and down the Ohio River to Boonesboro only to find his Company fighting elsewhere. He stayed in Boonesboro and when he was needed to scout against a large group of advancing Indians, he simply said "no" and stayed at the Fort. A large battle was fought which the Indians won (Battle of Blue Lick where many of our relatives fought and died). He helped bury many of our soldiers and was then placed up for court martial for "refusing to fight". He was excused of all charges by General George Rogers Clark. Richard was never paid for his services but was awarded a pension of $80/year in 1833. ( See Pension Application)

Daniel Boone was tried for treason for his activities against Blackfish and the British. Two Hancocks, William and Stephen, who were in the salt detail testified against him. (These were brothers of Judith, Richard's wife.) Richard did not testify since he was in prison in Canada at the time. After the War Richard stayed at Fort Boone for several years. He and Judith then moved to Wayne Co. Kentucky in 1801. This part of Wayne became Clinton Co. After Judith died on 5 October, 1810, Richard lived with his grandson Richard (to whom he had conveyed land for this purpose) in Wayne Co. Richard died on 7 February, 1844 in Clinton Co. Kentucky.) ( This death date is taken from sworn statements in his Pension Application.) (Wayne and Clinton Co) Submitted by Dr. T.R. Hopkins

WADE, Elisha -- He was a veteran of the War of 1812. He was a Private and in the Battle of New Orleans he served under the command of Lt. Colonel Gabriel Slaughter. (Data from Bounty Land Application #6799. He was active in the militia and became a Major. (Wayne Co) Submitted by Dr. T.R. Hopkins

Submitted by Bob Hopkins

* * * *

Over my extensive research for many years, I have many veteran ancestors, and I belong to the Daughters of the American Revolution. Granville C. Perdue served in the Civil War, confederate side. He was born Dec. 14, 1839 in Clinton County, KY, and died June 15, 1908 in Clinton County.

My dad, Wendell Sherman Jones, served in World War II.

Thank you for this privilege to honor these veterans. I have many cousins and other ancestors who served. A warm gratitude to all of them.

Submitted by Nora Hickam

* * * *

When I was a young boy, I remember watching the TV and seeing the stories of the heroics of the young American soldiers during WWII. I kept looking for my dad on those battle field images and was proud in knowing that even I didn't see him, I knew he had been there.

I used to say, "Dad, someday I'm going to be a soldier too." He'd simply sit quietly and say "Now, why would you want to do that. I went there so you wouldn't have to go."

Now my father's gone and I did serve in the military. But, I have learned what he knew then. We served in the hope and dream that someday this world would not be full of conflict, killing, and so much sadness. We come from a land where our freedom is our God given right that we will preserve at all costs. We are united under one flag that represents us all, no matter our differences in race or creed. Our love for our country and one another is born from the respect instilled in us by our forefathers who cherished this country and all that it stands for in this world.

May God bless us all as Americans. May we remember the men and women that gave of their time and their lives, that the values that we have come to know as the American Way, be preserved for the next generations.

Remember our Veterans.

Submitted by Redi


* * * *

I wish to pay tribute here to two of my many veteran ancestors from Clinton County:

My father, Walker Allen Brents, Sr., born in Albany, Clinton County, Kentucky, Dec. 25, 1896. Served in the Navy in World War I and the Army in World War II. Highest rank, Lt. Colonel. Was a reservist called up in our first major mobilization for World War II, October, 1940; over a year before Pearl Harbor. Most men of his age and family status did not have to go. Died Fort Worth, Texas, Aug. 10, 1975.

The grandfather of the above, John Allen Brents, born in Clinton County, Kentucky, Aug. 15, 1833. Served in the First Kentucky Cavalry Regiment (Union), Civil War. Highest rank, Major. Survivor of many hardships and skirmishes in Tennessee and Kentucky, and battles of Camp Wildcat and Mill Springs. Author of "The Patriots and Guerillas of East Tennessee and Kentucky". State legislator, delegate 1890 Kentucky Constitutional Convention, county clerk, lawyer, etc. Died Albany, August 10, 1900, exactly 75 years before his grandson above.

Thank you, and thanks to all American veterans.

Submitted by Walker Allen Brents, Jr.

* * * *