[To search this document, use the search capabilities in your browser. If you are using Internet Explorer, click on 'F' while holding down the CTRL key. Keep in mind that most names in this document appear more than once.
Click on the Photos Below for a larger photo.
I have acquired several old photographs of the some of the Dupuy, Davison, Adkins, Toler, and Lambert families who lived in Hancock County in the early days (late 1800's) in the communities of Utility, Hawesville, and Lewisport. James Dupuy, the first Coroner of Hancock County was my GGGG/Grandfather.
[This was submitted by Randall Dill. To contact him, click here to send him e-mail.]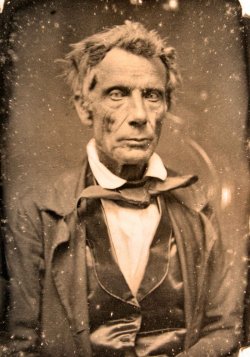 #1 JAMES DUPUY JR. b. Aug. 29, 1786 in Oldham County; d. July 9, 1871. James Dupuy was the great-grandson of the French Huguenot Bartholomew Dupuy who came to Virginia in the year 1700 settling in King William Parish on the James River. He was the son of Rev. James and Anne (Starke) Dupuy from Shelby County, Kentucky. James Dupuy, along with others, was instrumental in the mapping of boundaries for Hancock County being formed out of Breckinridge, Ohio, and Daviess counties. Kentucky Governor Thomas Metcalf appointed and commissioned James Dupuy to be the first county coroner. The first court proceedings for Hancock County was held on March 24, 1829 at the home of James Dupuy (about 4 miles SW of Hawesville). Up until the beginning of the Civil War, Mr. Dupuy had become a very prominent land owner in the county. In 1851 he created the community of Utility and granted part of his land for the building of the United Baptist Church (now Union Baptist Church). James Dupuy is buried in the church's cemetery next to his wife Mary Ann Maxey.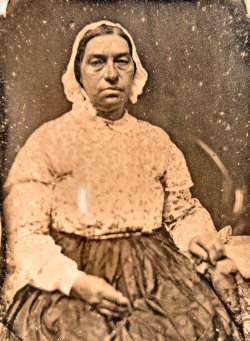 #2 MARY ANN MAXEY DUPUY b. Sept. 20, 1800; d.April 2, 1885. Mary Ann Maxey, was a daughter of Nathaniel and Elizabeth (Baber) Maxey from Buckingham County, Virginia. She married James Dupuy on December 16, 1819 and raised three children: Nathaniel Maxey Dupuy, b. 1820;d. 1849. Jane Starke Dupuy, b. 1822; d. 1912. Napolean Bonaparte Dupuy, b. 1837; d. 1863.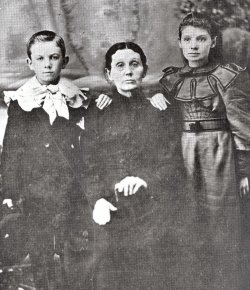 #3 EUSEBIA N. ELLIS DUPUY c.1872., b. 1839;d. 1909. The widowed spouse of Confederate soldier Napolean Bonaparte Dupuy (son of James Dupuy of Utility, Kentucky). Children shown: Napolean Dupuy, aka "Poley" b. 1861; d.? and Elizabeth (Betty) Dupuy Lambert, b. 1858; d.1940. (Oldest daughter Fannie is not pictured). Eusebia N. Dupuy is buried in the Lewisport Cemetery.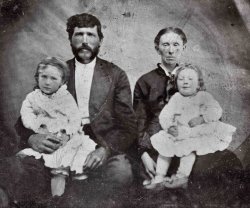 #4 JOSHUA D. ADKINS & FAMILY c. 1879. Shown is wife Fannie Dupuy Adkins b. 1857; d. 1886. Daughters Caroline (Carrie) and Ora Bea. Joshua and Fannie are buried in the Lewisport Cemetery.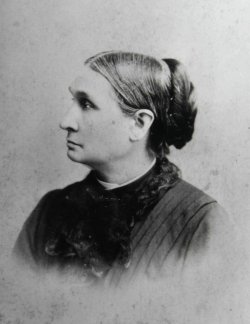 #5 JANE STARKE DUPUY DAVISON b. 1822; d. 1912. Jane was the daughter of James Dupuy and Mary Ann (Maxey) Dupuy. In 1838, she married Hawesville physician Hardin A. Davison at the early age of 16. This courageous lady endured many sorrows in her life burying four of her five sons and husband all from violent deaths. Her eldest son, being the notorious "Wild Bill" William Davison led his band of Confederate guerrillas to capture a Union steamboat the "Morning Star" in 1864 and burned the Daviess County courthouse on Jan. 4, 1865, and later was fatally shot by Home Guardsman. After the Civil War, Jane left Kentucky and lived out her remaining days in Kansas and Missouri near her eldest remaining son Henry Hugh Davison. Much is writtten about her life in the book Fearful Times (1986) by Glenn Hodges and in selected archived issues of the Hancock Clarion.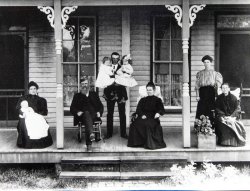 #6 THE HIRAM THOMAS LAMBERT HOME (front porch/corner of Market & Fifth Street in Lewisport) c. 1907. Left to Right: Willie Lambert Toler with daughter Nellie Holmes in lap; Hiram Thomas Lambert; James Albert "Abb" Toler holding daughters: Mildred Toler and Elizabeth Toler; Elizabeth "Betty" Dupuy Lambert; Nellie Lambert, Eusebia Neva Ellis Dupuy in rocker.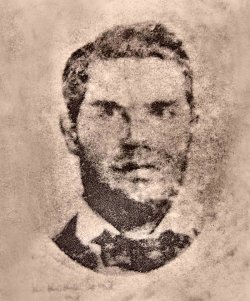 #7 NAPOLEAN BONAPARTE DUPUY b.1837; d.1863. Son of James Dupuy and Mary Ann Maxey. On March 6, 1856 Napolean B. Dupuy married Eusebia Neva Ellis (daughter of Rev. Hardin H. Ellis and Elizabeth Cottrell Doolin). In September of 1862, he enlisted in the Confederate 10th Regiment Cavalry (new Co. H). He was killed only seven months later in April of 1863 near Celina, Tennessee just south of the Kentucky state line. He was only 26 years of age leaving behind his widow Eusebia and two girls: Fannie, Betty, and a toddler boy: Napolean "Poley". Family sources say that he was buried on a farm in Overton County, Tennessee and the land owner had N.B. Dupuy's wedding ring sent back to his grieving widow in Hancock County, Kentucky.