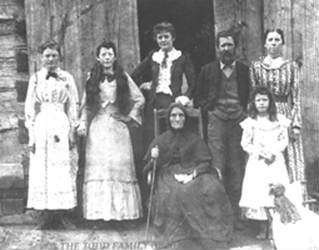 My great-grandmother, Sallie (Todd) Faull was born on 12 Feb 1877 in Hopkins Co., KY to David Samuel Todd and Susan Cornelia Todd. David Samuel Todd was born 6 Sept 1850 in Hopkins Co., Ky to William and Evaline (Fox) Todd. Susan Cornelia Todd was the granddaughter of David's uncle, Solomon Todd, and the daughter of Lysander G. and Adelaide (Sisk) Todd.
This picture was taken ca 1897 in front of the Todd barn, I believe near St. Charles, Hopkins Co., KY. From left to right: (Back Row) Martha E. (Mattie) Todd (married Moses Taylor Cranor; Sallie Todd (my great-grandmother-the one with long (red) hair) married Charles Henry Faull; Beulah Todd married Franklin Bishop; David Samuel Todd; Susan Cornelia (Todd) Todd. (Front Row): Evaline (Fox) Todd - in the rocking chair. She was born ca 1816 and was the daughter of Noah and Cynthia (Laffoon) Fox. The little girl is Adelaide "Addie" Todd (married Grover L. Mays).
Great-Grandma Sallie (Todd) Faull died in 1978 at age 101 in Herrin, Williamson County, Illinois. She used to tell about one night in the early days when she heard a noise in the barn in the picture, grabbed her father's shotgun, crept outside and surprised an intruder. She filled his pants with buckshot.