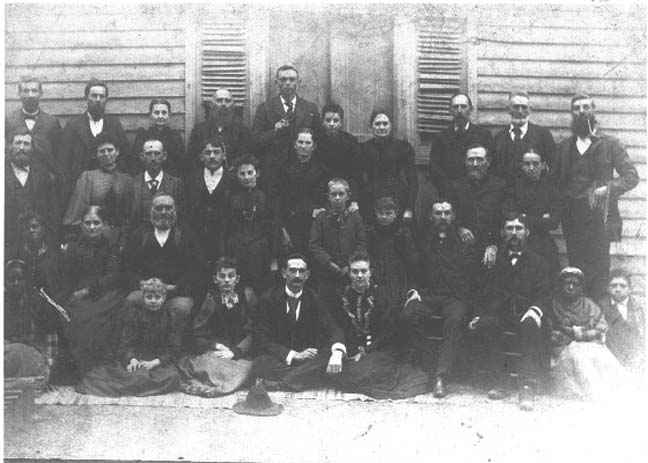 Rice family reunion photo:
Descendants of John E. Rice (1800-1874) and Jane Martin Rice (1806-1878) of Hopkins County, at a family reunion in December, 1892 at the family homestead, south of White Plains near Mt. Carmel Church. The following are the children of John and Jane Rice: Martin Rice is second row, third from left; the woman sitting left of Martin is probably Emma Parker his wife; Nellie Rice, one of their daughters, is at Martin's feet. Third row, standing, third from left is Charles M. Rice, with his wife Irene Forman Rice second from left. Third row, standing, far right: Lewis C. Rice, with his wife Emily Ashby Rice next right, on the end. Back row, fourth from left: Bayliss Rice, with his wife Hester Stanley Bailey Rice third from left. Back row, second from right is James H Rice, with Felix W. Rice third from the right. Eliza Rice, wife of James H., is believed to be the woman standing directly in front of the tall man in the center back row. Their son, Samuel L. Rice is thought to be the young man with mustache seated on the ground in the center.
Identities of the African American women in the photo are unknown; however, in the 1870 Hopkins County Census, Fredonia Rice age 24, and children Bettie, Elice and Dosha, all African American females, were living in the household of Martin and Emma Rice at White Plains.