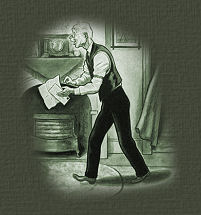 ---
BUTLER ENTERPRISE
Enterprise Publishing Co. BUTLER, KY., July 13, 1889 Volume V1. No. 9
---
TERMS: Sixty Cents a Year, in Advance.
Published at Falmoth.
The Enterprise was entered May 11, 1889, at the Post Office at Falmouth, Ky., as second class matter.
---
The bridge badly needs sweeping.
Agitate the sweeping out of the bridge.
Our streets are being cleaned and otherwise improved. We progress handsomely.
There is one think worthy the notice of every person who lives at Butler, about which we will now speak. Mr. A. Chapman of Findley, O., was here this week in the interest of the development of our natural resources. A practical oil and gas man, Mr. Hammond, of Lima, O., will be on soon to commence operations, which will be from a point on the Ohio River, through to Butler and north and south of here. Our farmers should encourage these men by welcoming them as much as is consistent, and encourage this which, if made successful, will enhance the wealth of every one living near here.

Thirty-two more ladies and gentlemen wanted as agents for the National Garment Cutter. Write for terms and be convinced that it is the best paying business in which experienced agents can engage. Call on or address H. H. Wadsworth, Phoenix Hotel, Falmouth, Ky.

Miss Mary Barrett was at Butler one day this week. She is one of the experienced teachers of the county, was assistant in the Falmouth school last winter and we would be glad if she would make application for our schools here.
James Langly left Friday for his Texas home. We will be glad to see you again, Jim.
___ Gosney was in town today.
Jesse Colbert's family, of Boston, are going back and forth to and from Falmouth constantly while Mr. and Mrs. Colbert are so dangerously ill.

For Grape Blight
J.W. Warren, of Smithville, Ind., writes: "Seeing in your paper a complaint of grapes rotting, would say that for the past four years I have scattered from two to three pounds of coperas to the square rod of ground under the vines, with the effect of stopping the blight, if commenced, or preventing it if the coperas is scattered before the blight shows itself." -- Georgetown Times.

Every purchaser of the National Garment Cutter is taught to cut and fit perfecdtly. This is a good opportunity for ladies to learn cutting and fitting. Call on or address, for particulars, the salesman, H. H. Wadsworth, Falmouth, Ky.

W. C. Tarvin,
The Pioneer Butcher of Butler, Ky.,
Will deal in
FRESH and SMOKED MEAT,
Fresh Sausage,
And Vegetables of all kinds in their seasons.

DENTAL OFFICE!
Dr. G.B. Cooper
Resident Dentist.
All work guaranteed
Office: upstairs in Masonic Building
Falmouth, KY.