CASEY COUNTY, KENTUCKY CEMETERY NEWSLETTER
VOL. 6 NOVEMBER 2007
CONTACT: RochelleRiordan@hotmail.com
MIKE DENIS has photographed the Butchertown/Vaught Cemetery and Rousey Cemetery and these have been posted to Find a Grave. In his research, he came across a great link about the Rousey Family. http://rouseyhomeplace.com/index.html
Mike has also finished adding the entries for Glenwood Cemetery.
BRENDA SANDERS & LINDA PETERS have photographed Hiter (Adair), Gaddis, Maxey Valley and Vaught Ridge (Pulaski).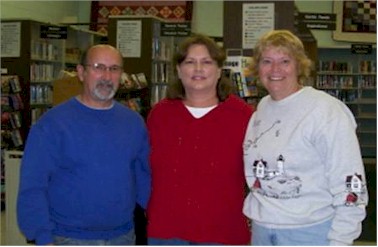 Mike Denis, Brenda Sanders and Rochelle Riordan
MAX TURPIN has finished posting Simpson Cemetery and Elder Cemetery. He has also posted Purdom Cemetery.
NIKKI PRATER writes: "I am planning a trip down to Casey soon to clean up the old Lanham homestead cemetery where Ansel and Susannah are buried along with other family members. There are supposed to be about 20 graves there. When I located it when there in early summer 2003 with my sister (who lives in Richmond) could only find 6 graves, because of the over growth."
RHONDA PATTON WATHEN and I have nearly finished posting Cold Springs.
COMING SOON! RICHARD HOLLIS has volunteered to head up our "Giant Family Tree" project. Details are still being worked out and there will be much more information in the next newsletter. In the meantime, if you use a genealogy software program, we would love to include your Casey County (and surrounding counties) GEDCOM files into the tree.
Since the last newsletter, the following cemeteries have been completed and added to Find a Grave as well as the Casey Co., KYGenWeb site:
Minor
Conder
Mays-Rogers
Simpson
Elder
Maxey Valley
Rousey
Gum Lick
Mintonville
Piney Grove/Mullins
New Willow Springs
Whitehouse/Maddox/Hafley
Oak Hill
Brown
Clearview Baptist
Scott's Chapel
Calhoun Creek
Bethelridge
Baldock Chapel
Corinth First Church of God
Glover
Labascus Church of Christ
Mason Creek
Maxey Valley
Work will begin soon on posting Salem Cemetery and Jone's Chapel. Also, a great book "The Forgotten Past"- Cemeteries of Forkland Community, Little South Fork, North Rolling Fork and Gravel Switch, Kentucky (1974) is being used to post the cemeteries in these areas. Hopefully we will get photos to go with the entries.
Editors are needed! An editor will be sent a cemetery list. The editor will look at the Find a Grave entries for that cemetery and ascertain women's maiden names, full names and complete dates from obituary and death certificate info already posted. The editor will then submit any corrections or additions that need to be made to me. I have found that the best way to do this is by making the correction/additions in red on the original list sent. If you are willing to volunteer to edit a cemetery please contact me at RochelleRiordan@hotmail.com
As promised, here are the GPS coordinates for several Casey County cemeteries with more to come in future editions:
| | | |
| --- | --- | --- |
| NAME | LAT | LONG |
| Adam | 37.434518 | -84.9410656 |
| Allen | 37.2439612 | -84.961898 |
| Antioch Baptist Church | 37.2656261 | -85.0488451 |
| Austin | 37.2167373 | -85.030511 |
| Baldock Chapel | 37.1820175 | -84.8952284 |
| Belton | 37.3250699 | -85.0841241 |
| Block | 37.3061824 | -85.026345 |
| Bowmer | 37.1595168 | -84.9193956 |
| Brown | 37.4639638 | -84.8730074 |
| Brown 2 | 37.2611877 | -84.7430019 |
| Carr | 37.3806281 | -84.9916228 |
| Carson | 37.2139611 | -84.9521752 |
| Cedar Springs | 37.1097942 | -84.9157839 |
| Clearview | 37.349518 | -84.9180085 |
| Cold Springs | 37.2681263 | -85.0435672 |
| Durham | 37.2847983 | -84.7730029 |
| Durham (Eubank) | 37.3170214 | -84.7271681 |
| Elder | 37.5436832 | -85.0202361 |
| Ellis | 37.4736845 | -84.962178 |
| Falconbury | 37.3370215 | -84.7238347 |
| Gilpin | 37.3656253 | -85.1010691 |
| Glenwood | 37.3259068 | -84.9193972 |
| Green River Christian | 37.3475752 | -84.8313385 |
| Green River Valley | 37.2470162 | -84.9899546 |
| Grove Ridge | 37.3428543 | -84.7588357 |
| Hatter | 37.303409 | -84.797726 |
| Jennie's Chapel | 37.1395172 | -84.888561 |
| Jones Chapel | 37.3375685 | -85.1457919 |
| Luttrell | 37.132849 | -84.964397 |
| Malone | 37.4439608 | -85.0299575 |
| Miller | 37.2375717 | -84.9891212 |
| Moore | 37.2434101 | -84.726057 |
| Mount Calvary | 37.308409 | -84.7960593 |
| Mount Pleasant | 37.275071 | -85.0291226 |
| Oak Grove | 37.1597938 | -84.9582859 |
| Old Willow Springs | 37.2770192 | -84.8396718 |
| Peavey | 37.3964605 | -85.0294014 |
| Peyton | 37.4084062 | -84.9746779 |
| Pleasant Grove | 37.3734044 | -85.0449571 |
| Poplar Grove | 37.3717402 | -84.9274535 |
| Poplar Springs | 37.2895184 | -84.8863403 |
| Rich Hill | 37.2656309 | -84.8099486 |
| Rogers | 37.5320164 | -85.0266249 |
| Russell | 37.1386832 | -84.9235623 |
| Salem | 37.255627 | -85.0110664 |
| Salyer | 37.2892431 | -84.7555023 |
| Shady Grove | 37.3003493 | -85.0149558 |
| Smith | 37.4403521 | -84.9016196 |
| South Fork | 37.2045173 | -84.9102292 |
| Southerland | 37.5028517 | -84.9421773 |
| Spaw | 37.2095192 | -84.819115 |
| Statham | 37.29456 | -84.78554 |
| Tapscott | 37.3989615 | -84.9907895 |
| Thomas Ridge | 37.1878494 | -84.9685644 |
| Thomastown | 37.178682 | -85.00301 |
| Trace Fork | 37.2700741 | -84.874673 |
| Trace Fork | 37.2706297 | -84.8741175 |
| Valley Grove | 37.5050741 | -84.92551 |
| Vaught | 37.5142413 | -84.8941197 |
| Wall | 37.3528548 | -84.7321682 |
| Walnut Hill | 37.2836835 | -84.9652319 |
| Watson Chapel | 37.2314645 | -84.7863364 |
| Whited | 37.3345163 | -85.0071782 |
| Whitehouse | 37.5256301 | -84.9013423 |
| Willow Springs | 37.28564 | -84.83817 |
| Wilson | 37.3759059 | -84.9796778 |
| Wilson 2 | 37.374517 | -84.9791222 |