Spencer County Bridges
By Tom Watson
Wednesday, October 26, 2005

While the conversation continues about the future of Taylorsville's historic blue bridge over Salt River, I cannot help being reminded of another metal bridge the city had for many years.

The metal bridge that carried Kentucky 44 across the Salt River on the western edge of town saw several close calls in its history. I remember the creek getting so high it was threatening to run across the bridge floor and no doubt some of you recall it pouring over. Vehicles would pull up on one side or the other and the drivers would pause before chancing to try and make it across.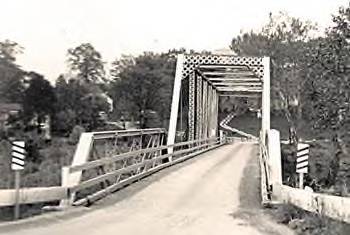 The Brashears Creek metal bridge at Taylorsville.

Undoubtedly, they were thinking, "My gosh this is scary!" Big limbs and an occasional tree would wash up to the north side of the bridge, adding to drama.

I recall driving across the bridge when the water was very high and extremely rapid, but I would have never tried to cross it when the water was nearly even with the road surface or splashing across.

Taylorsville had two railroad bridges, one over Brashears Creek where the current Kentucky 55-155 concrete span stands and the other over Salt River just east of the Pioneer Cemetery.

There were wooden covered bridges over both the Salt River and Brashears Creek. The Salt River span was about 200 yards west of the current blue metal bridge, while the wooden span over the creek was about where the current concrete bridge is located.

The wooden bridge over the Salt River at Taylorsville was built in 1833 with much of the labor performed by slaves. The large beams and timbers were sawed with the old whip saws. The cost of the Salt River wooden bridge was estimated at $5,000.

The blue, metal bridge was completed 100 years after the wooden span.

In 1933, Henry Greenwell was mayor of Taylorsville. Betty Miller cut the ribbon at the dedication after nine months of bridge construction at a cost of $42,000.

The blue bridge weighs some 782 tons, is made of 282 tons of steel and 500 tons of concrete. The substructure required 1,058 tons of concrete and 26 tons of steel. The total length of "Old Blue" is 378 feet, the floor is 36 feet above the water mark.
---
spencermagnet.com is the website of



©2005 The Spencer Magnet

Have a news tip?
Send it to us at spencermagnet@ka.net

This page reproduced with permission of Tracy Combs, Editor/GM, The Spencer Magnet

This site maintained by Diane Bollschweiler for the KY GenWeb project.