Civil War soldiers in Taylorsville
Civil War soldiers in Taylorsville
By Tom Watson
Wednesday, April 27, 2005
---
When the Civil War and Taylorsville are discussed in the same context, this scribe usually recalls the fight at what is now called "Wakefield" and the mortal wound received by Confederate guerrilla William Quantrill.

But there were many instances of troop movements in Spencer County and especially prior to the Battle of Perryville, Oct.8, 1862. In fact, thousands of Union troops camped twice in the Taylorsville area before heading on to Bloomfield for two days of camping on what is now Jerry Bruckheimer's farm, then they continued to Perryville.

Union Captain John Belt Taylor with his sons after the Civil War. Taylor had dinner at Vaucluse when Union troops camped at Taylorsville on their way to Perryville. The first Spencer County campsite was in the bottoms below Withrow Hill, then, the next day, the 21,000 Yankees camped on the hills around Taylorsville with at least 1,000 on Black's Hill overlooking town. You can imagine they were on every hill around town and the knoll as well.

Capt. John Belt Taylor, 30, of Frankfort, visited Vaucluse (known in recent years as the Knox Brown place) during the stay and had dinner with his friends, the Yoder Poignand family. We throw that in because Taylor's diary is a wonderful source of information about the Union troops in Taylorsville.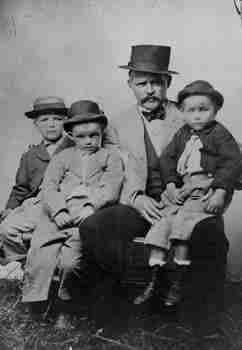 Union Captain John Belt Taylor with his sons after the Civil War. Taylor had dinner at Vaucluse when Union troops camped at Taylorsville on their way to Perryville.

An entry in his diary dated Oct. 4, 1862, is quite interesting because it could explain the deaths of 18 Confederate soldiers a few miles south of Taylorsville.

It says: "Various rumors in camp this morning, all bearing upon Confederate Gen. (Braxton) Bragg's proximity to our advance. The cavalry sent out reconnoitering from Taylorsville yesterday (Oct. 2, 1862) and skirmished with the enemy's rear guard."

It is perhaps the 18 Confederates buried behind a house in the Wakefield area who died in this skirmishing.

Even before the march to Perryville there were soldiers in Taylorsville and Spencer County. Here are some interesting official reports from the War of the Rebellion Records kept in the National Archives.

HEADQUARTERS ARMY OF KENTUCKY,

Lexington, Ky., September 11, 1862.

General D. LEADBETTER, commanding Forces en route for Frankfort :

GENERAL: Instead of proceeding to Georgetown, as previously directed, the general commanding orders that you will for the present, with your brigade and that of Colonel Davis, take post at Frankfort, Ky. A courier from Colonel Starnes, who has just arrived from Tay1orsville, reports that yesterday evening the enemy were in some force at that place. They are said to be eight regiments of infantry and to have come from Bloomfield. The general thinks the report exaggerated, and leaves it to your discretion what course to pursue with regard to that force. He wishes you to have the country well examined in front of Frankfort and frequent reports sent him as to the movements of the enemy. You are authorized to call upon any cavalry within your vicinity to aid you in obeying the above instructions.

Very respectfully,

JNO. PEGRAM,

Chief of Staff.

HDQRS. RIGHT WING, ARMY OF THE MISSISSIPPI,

Crozier's House, near Bardstown, Ky., Sept. 23, 1862.

Brigadier-General FORREST:

GENERAL: I am instructed by Major-General Polk to say that you will post your brigade at High Grove, on the Louisville turnpike, about 12 miles from this place. Establish a picket guard at Taylorsville, to the right of your position, and also on the Shepherdsville road, to your left about 12 miles. Keep constantly in communication with these pickets by couriers, and report promptly to these headquarters any movements of the enemy. You must press down on the Louisville and Bardstown Railroad as far up toward Louisville as you can and destroy the bridges and culverts. Do this as promptly as possible.

Respectfully, your obedient servant,

GEORGE WILLIAMSON,

Assistant Adjutant-General.

HEADQUARTERS FIRST CAVALRY BRIGADE,

Near High Grove, Ky., September 27, 1862.

Maj. GEORGE WILLIAMSON,

Asst. Adjt. Gen., Right Wing, Army of the Miss.:

MAJOR: Below I give you the disposition of the cavalry brigade under my command: One hundred and sixty men under Capt. [M. L.] Evans, [Company C, Eighth Texas Cavalry], at Taylorsville; three companies under Capt. [C. H.] Ingles, [Fourth Tennessee Cavalry], at Salt River, on the Louisville and Bardstown pike; 10 men to guard the mills at Bloomfield; 10 men to guard the mills at Fairfield; four companies under Maj. [C. A.] Whaley [Second Georgia Cavalry], at New Haven; two companies guarding wagon train under orders from Colonel O'Bannon; one company with engineer corps under orders from General Polk; 13 men gone to Danville with condemned horses; three companies sent yesterday to General Bragg for special service; six companies at Sears' Mill, on Shepherdsville road, [and] one company on police duty. I have now on camp at this place only about 40 of the Second Georgia and 200 of the Rangers, besides four partially armed companies. You will see, major, that, occupying the extreme outpost of the army, this force is too small and is also a fragmentary command, which is generally worthless. I have not men in camp to relieve those on duty. Major Whaley has been ordered to report to me, but has not yet arrived. General Bragg ordered me to make a report of the forces under me, which is impossible until I can get the command more in hand. Commanders of regiments with their adjutants are absent on outpost and are themselves separated from the bulk of their respective commands. I have three companies of Kentuckians on picket. Major Caldwell has six companies of Kentuckians under Colonel Wheeler. Could you not order him to report to me in order that I might be re-enforced and also that the Kentuckians might be together? Colonel Lay's regiment could supply Major Caldwell's place to Colonel Wheeler. General Forrest told me that Colonel Lay's regiment was picketing the Shepherdsville road, which I find to be a mistake. I shall use every exertion to have discipline and prevent straggling. I was called on yesterday and last night for thirteen companies. I have made this statement in order that you may be apprised of my condition and ability to respond to future calls. Taylorsville is a very important and distant outpost and should be more strongly guarded, but I have not the men to send there. I would not now have 300 men to defend this camp if attacked.

As General Bragg ordered me to make a report I should be pleased if the substance of this was communicated to him as my apology.

Respectfully, yours,

JNO. A. WHARTON,

Colonel, Commanding Cavalry.

HEADQUARTERS,

Bardstown, Ky., October 3, 1862--2.30 a.m.

Colonel WHEELER, Commanding Cavalry :

COLONEL: Send an additional force of cavalry on the Shepherdsville road. A division of the enemy it is said occupied that place yesterday. Send as much cavalry as you can spare. There ought to be 250 at least on that road. It is also reported that the enemy has occupied Taylorsville.

With high respect, your obedient servant,

W. J. HARDEE,

Major-general.

LOUISVILLE, October 1, 1862.

General THOMAS:

If nothing should have occurred to render a change in our dispositions necessary the troops will continue the march to-morrow as follows: The column on the Shelbyville pike will go to Shelbyville. The column on the Taylorsville pike will continue on that pike to Plum Creek, which will be near where the pike forks, one branch going to Taylorsville and the other to Shelbyville.

The column on the Bardstown pike will go to Floyd's Fork and prepare the banks to cross. The Mechanics will also at once go to work to bridge the creek with all dispatch.

The leading division on the Shepherdsville road will go near to Shepherdsville. The other two divisions will turn off on the road going to Mount Washington, and halt at the first water on that road. They win push forward an advance guard and prepare the banks of Floyd's Fork for crossing. The cavalry will push well in advance of the columns and clear the way. They must keep the country thoroughly under watch for 6 or 8 miles in advance of the columns. The roads must be repaired where they require it. I shall be on the Bardstown road to-morrow, but wish you to remain with that column unless I get up in time for you to turn off.

D.C. BUELL.

FRANKFORT, KY., October 10, 1862.

Major-General BUELL:

General Sill went from here to Lawrenceburg and had a skirmish there with the enemy's pickets, and then, as near as I can learn, bore southwesterly, perhaps toward Taylorsville, Bloomfield, or Springfield, the enemy's pickets hanging upon his rear and harassing him. On yesterday the cannonading was distinctly heard, and I presume there is no doubt of the fact, though I have no certain intelligence as to the particulars, and cannot inform you where he was last evening. I have not seen him since he left Shelbyville, and he left no word for me at Frankfort when he left, nor has he sent me any messenger.

When I drove the enemy from Frankfort he retreated out the Versailles road, where his main force was camped, a few miles from town. I was compelled to take my main force across the river to fight him and to give pursuit, and after the pursuit was found to be unavailing to station my artillery on that road.

The best position for artillery is found upon the north side of the river. I have now two brigades on the south side. I will do as you direct, but state the fact and my opinion as to position for your information, and ask your instruction in the premises.

I have my troops all out of town.

E. DUMONT,

Brigadier-General.

Hope you liked this week's column. Stay in touch. Phone 502 252-9991, email apwriternews@yahoo,com, write Tom Watson, 5225 Little Union Rd., Taylorsville, Ky., 40071. Send your information, pictures and ideas. Unfortunately, I am unable to provide back issues or columns.

spencermagnet.com is the website of



©2001 The Spencer Magnet

Have a news tip?
Send it to us at spencermagnet@ka.net

This page reproduced with permission of Tracy Combs, Editor/GM, The Spencer Magnet
---
Return to Spencer County


This site maintained by Diane Bollschweiler for the KY GenWeb project.